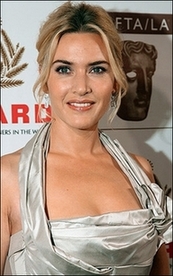 British actress Kate Winslet [Agencies]
British actress Kate Winslet will replace the pregnant Nicole Kidman in the upcoming romantic drama "The Reader," the author of the best-selling book on which the film is based told a German newspaper.
Bernhard Schlink told the Berliner Morgenpost in an article to be published Wednesday that Winslet would take on the starring role of the mysterious older woman who seduces a young man in postwar Germany.
"Kate Winslet fits the role wonderfully," he said.
Kidman's publicist confirmed Tuesday that the 40-year-old Australian and her husband, country star Keith Urban, were expecting a baby.
"The Reader," which will co-star Ralph Fiennes, is to be filmed in New York and the Babelsberg studios outside Berlin. A Babelsberg spokesman confirmed that production would begin this month.
The director is Stephen Daldry who made "The Hours," the film that earned Kidman a Best Actress Academy Award in 2002 for her portrayal of Virginia Woolf.