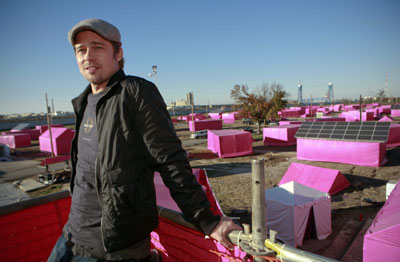 Actor Brad Pitt looks over the Pink Project, metal frames draped in pink fabric, in the Lower Ninth Ward of New Orleans December 3, 2007. Pitt said on Monday he wants to build 150 environmentally friendly homes for families displaced by Hurricane Katrina in the hard-hit New Orleans neighborhood. [Agencies]
Brad Pitt expects the foundations to be built for at least 150 eco-friendly homes in New Orleans' Lower 9th Ward by the end of next summer.
"I'm hoping we can expand here and expand over into the rest of New Orleans," the 43-year-old actor said Monday morning in an interview on NBC's "Today" show as he walked through the devastated neighborhood.
The initiative, called Make It Right, is Pitt's latest effort to help the area recover from Hurricane Katrina. Pitt has also worked with the environmental organization Global Green USA to build five single-family homes and an 18-unit apartment complex and community center; earlier this year, he and Angelina Jolie purchased a mansion in the city's French Quarter for $3.5 million.
Pitt has pledged $5 million of his own money toward the project and — calling himself "not much of a salesman" — was campaigning for more donations for the cause.