CANNES, France (Reuters) - The men of "Ocean's Thirteen" -- Brad Pitt, George Clooney and their crew -- have turned their Hollywood hype machine into a campaign to raise money for Darfur refugees.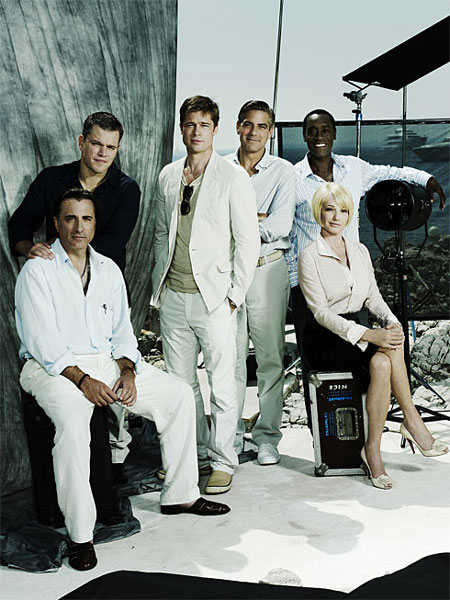 Cast members Andy Garcia, left, Matt Damon, Brad Pitt, George Clooney, Don Cheadle and Ellen Barkin hold court at the Hotel Eden Rock in Cannes, France. [Getty Images]
"Ocean's Thirteen" debuts at the Cannes Film Festival on Thursday, and the movie starring Clooney and Pitt as suave con men who rob casinos is as easy-going as the two blockbusters preceding it -- "Ocean's Eleven" and "Ocean's Twelve."
"We've known each other too long -- we know each other's families -- and it's just an instantaneous rhythm that sets in" when working on the "Ocean's" movies, Pitt told Reuters.
"And, of course, the movies themselves have never been high drama ... (fun) is the point of it," he added.
The first movie delighted audiences and raked in $450 million at box offices worldwide, and while some fans and critics were disappointed with "Twelve," it nevertheless reaped a sizeable haul of $363 million.
"Ocean's Thirteen" sticks closely to the formula of the first two: a lot of laughs, some silly gags and a big heist.
Danny Ocean (Clooney) calls upon his partners in crime, including master thief Rusty Ryan (Pitt) and geeky intellectual Linus Caldwell ( Matt Damon), to hit the new Vegas casino being opened by shifty businessman Willy Bank ( Al Pacino).
But there is a twist: they are not in it for the money.
FROM HOLLYWOOD TO DARFUR
The charity of Clooney, Pitt, Damon, Don Cheadle, and producer Jerry Weintraub, does not stop on the movie screen.
They also came to the world's largest film festival with its huge media coverage to raise money and awareness for refugees in the Darfur region of Sudan.
In recent years, bringing them food, shelter and medicine has become a priority for activists and some political leaders around the world, and Hollywood has also taken up the cause.
"We're not politicians. We're not able to make decisions. We're not able to do anything except bring attention to something, and that's the thing we can do," Clooney said.
"Kids are dying from diarrhea ... that just shouldn't be in this day and age, and it's that kind of thing that needs to be changed. Enough is enough," Pitt added.
In advance of the widely anticipated "Ocean's Thirteen," four cast members -- Clooney, Pitt, Cheadle and Damon -- and Weintraub launched the Not On Our Watch Foundation to raise money and draw attention to the Darfur refugees.
Earlier this week, they raised $10 million at a Cannes party, and in June they head to Los Angeles, Las Vegas and Chicago for similar charity events.
Clooney took issue with anyone doubting his motives.
"At what point does anyone think anyone of us needs more publicity?" Clooney said. "I'm not going to defend what I think is doing the right thing ... we are doing it because we all think we would be criminal if we didn't take it a step further."