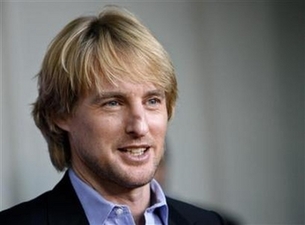 Owen Wilson attends the premiere of 'The Wendell Baker Story' at the
Writers Guild theater in Beverly Hills, California, May 10, 2007.[Reuters]
Owen Wilson, the Hollywood actor hospitalized just over a week ago following a reported suicide attempt, is "doing very well," said Wes Anderson, who directed him in the new comedy "The Darjeeling Limited."
Wilson had been expected to join the cast and crew of the movie in Venice, where it is one of 22 entries in the main competition at the annual film festival. "The Darjeeling Limited" has its world premiere later on Monday.
"We all miss having him here very much right now," Anderson, who has worked with Wilson on several films, told a news conference following a press screening of the movie.
"Obviously he's been through quite a lot this week, but I can tell you that's he doing very well and making us laugh, and when he's ready he's going to speak for himself much better than any of us could. He's got a very good way with words."
Anderson urged reporters to restrict their questions to the film in order to protect Wilson's privacy.
The 38-year-old actor and writer, nominated for an Oscar along with Anderson for the screenplay to "The Royal Tenenbaums," was released from a clinic over the weekend, according to media reports.
Wilson's box-office record -- "Wedding Crashers" topped $200 million in U.S. box office sales -- and his onscreen image as an affable everyman who charms the ladies and boozes with the boys, has made him a favorite with filmmakers and filmgoers.
INDIAN JOURNEY
"Darjeeling" follows three troubled brothers who meet on a train in India and embark on an often hilarious spiritual journey they hope will heal family rifts.
Owen plays the oldest sibling Francis Whitman, a control freak whose head is wrapped in bandages and whose face is covered in plasters after a near-death motorcycle crash.
Adrien Brody plays the middle sibling Peter, deeply anxious about the impending birth of his child, and Jason Schwartzman rounds off the trio as Jack, a writer who obsessively monitors the messages on his girlfriend's answering machine back home.
Most of the action takes place on an Indian train called The Darjeeling Limited, which trundles across stunning landscapes between teeming towns, where the brothers alight to visit shrines they hope will bring answers to their problems.
But the real epiphany comes when they attempt to rescue three Indian boys whose raft overturns in a fast-running river.
Tragedy and absurdity blur as the boys' family and friends welcome the three bewildered Whitmans into their homes in a village in the middle of nowhere.
The ultimate quest is to find their mother, played by Anjelica Huston, who left them to be a nun on a remote Indian hilltop. When they finally reach her, she meets them briefly only to disappear the following morning.
Anderson and his team hired a real Indian train and 10 coaches for three months, stripped them down, rebuilt the interiors and painted them in vivid colors, negotiating what they called "Byzantine Indian bureaucracies" to get the job done.
Bill Murray has a fleeting cameo role, appearing near the beginning of the film chasing a train he does not catch and again briefly at the end.
Murray joked: "Finally in this film I have the role ... that I've always cherished," before he described working a handful of days while relaxing for weeks in India and Venice. "This is what I cherish about this man," he added, referring to Anderson.