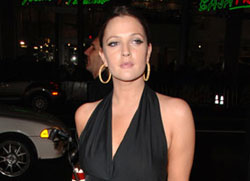 The esteemed Barrymore lineage can now count an ambassador among its ranks.
Drew Barrymore has been tapped to be an Ambassador against Hunger for the United Nation's World Food Program, the organization announced Wednesday.
"I am honored and humbled to accept this challenging and rewarding assignment," said the 32-year-old actress, who will focus on improving school feeding programs. "I can't think of any issue that is more important than working to see that no schoolchild in this world goes hungry."
Fresh from gracing the cover of People magazine's recent 100 Most Beautiful People issue, Barrymore spoke from Washington, D.C., where she was on Capitol Hill to help lobby Congress about passing draft legislation that would expand the McGovern-Dole International Food for Education and Child Nutrition Program, which regulates funding for school meals.
"Feeding a child at school is such a simple thing¡ªbut it works miracles," the Charlie's Angels star said. "School feeding not only fills stomachs, but has a proven track record of boosting enrollment, attendance and academic performance. For just pennies a day per child, this program changes lives¡ªand ultimately can impact the futures of poor countries around the world in a profound way."
The actress, who's currently on the big screen with Eric Bana in Lucky You and just hit DVD yesterday with Hugh Grant in Music and Lyrics, recently returned from her second trip to Kenya, where she joined her fellow Ambassador against Hunger, marathon world record-holder Paul Tergat, to visit sites where U.N.'s World Food Project is in effect.
¡±We are delighted to have Drew Barrymore join our team," WFP executive director Josette Sheeran said. "Her passion and commitment to changing the world for the better¡ªand of course the respect and admiration she commands¡ªwill make her a wonderful champion for school feeding."
Barrymore joins a growing list of A-listers that includes Angelina Jolie (an ambassador for the U.N. High Commissioner for Refugees), Michael Douglas (a U.N. messenger of peace for non-proliferation), Brad Pitt, George Clooney, Madonna, Don Cheadle, Leonardo DiCaprio and many others who have in recent years added "improve global living conditions" to their to-do lists.