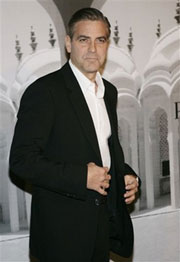 George Clooney arrives at the Armani Prive pre-Oscars fashion show in Beverly Hills, Calif., in this file photo from Feb. 24, 2007.[AP]
George Clooney will face his most challenging role yet when he takes on the role of a "despicable" cop in White Jazz, the follow-up to LA Confidential.
Set in the 1950's, White Jazz is the last in a series of movies, including The Black Dahlia, to be based on novels by crime writer James Ellroy.
The movie is fast becoming one of the most talked about productions in Hollywood as Ellroy's book is widely regarded as unfilmable due to its complicated language, multiple narrative strands and lack of good guy characters.
Speaking about Clooney's role, White Jazz director Joe Carnahan said: "What's in that script is a pretty despicable guy at times, and pretty nefarious and nasty and selfish."
Clooney's former lover, Charlize Theron, is currently tipped to play the female lead in the film.
Carnahan said: "I'm a huge Charlize fan. I would love her for that. I was taunting her at an Oscar party that I was gonna come chasin' her, so I really like Charlize."
Shooting is scheduled to start in November and the script had originally been written to be the sequel to LA. Confidential but the final version has taken some liberties.
Guy Pearce's character Ed Exley was, until two weeks ago, in the running to reprise the role but as an actual LA Confidential 2 has just been announced, the directors were forced to rethink their plans.
Ray Liotta is just one of the many celebrity names to have been associated with the project, which is due to start filming later this year.