Treat for museum fans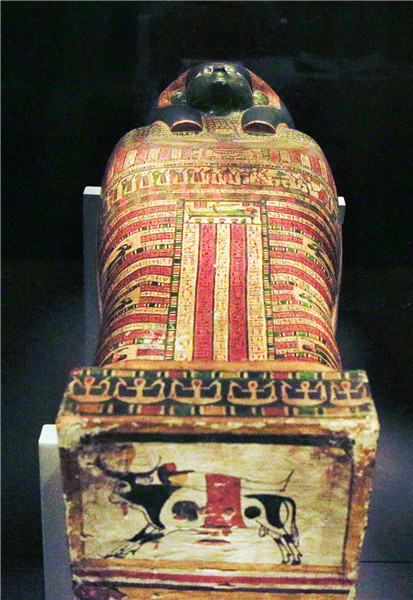 An inner coffin of Seshepenmehyt of ancient Egypt. The British Museum collections are shown at the Beijing leg of A History of the World in 100 Objects. JIANG DONG/CHINA DAILY
When it tours, the exhibition features a 101st object, which the host museums provide and is pertinent to local audiences. The Beijing leg features a wooden hammer and a pen used to mark China's entry into the World Trade Organization in 2001.
The exhibition will travel to the Shanghai Museum in June, and the museum is inviting suggestions on what the 101st object should be.
Crerar says when viewers compare objects representing different cultures, they will find similarities in many cases. "What it (the exhibition) showcases are universal concerns and the needs of humanity that are manifested in different parts of the world, in different times, but in a very similar way."
Yan Zhi, the exhibition's co-curator from the National Museum of China, says the format of A History of the World series inspired Chinese museum curators in terms of how to make use of their collections, and how to use digital technology to better communicate with the public.
Fischer says the exhibition is a tangible highlight in a long-standing relationship between the two museums, which they hope to continue.
Crerar says there were around 7 million visitors to the British Museum in 2016 and about 5 percent were Chinese, which she calls "a significant proportion".