When art gets a dose of generosity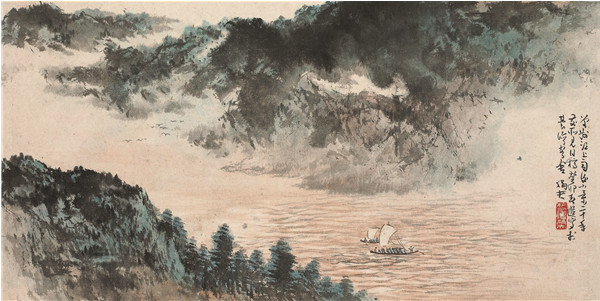 The exhibition Sincere Heart and Flying Dreams features Fu Juanfu's paintings (above) and his collection of works by such established modern artists as Feng Zikai and Zheng Yuebo. [Photo provided to China Daily]
Shortly after the opening of the Hangzhou-based Zhejiang Art Museum in 2009, the staff was contacted by the families of Fu Juanfu (1910-2007) in the United States. They hoped to make a considerable donation to the museum including Fu's artworks and his art collection.
Fu, who was trained to be a calligrapher and ink-brush painter from childhood, grew up in a neighborhood on Nanshan Street which is close to West Lake. It is the same street where the Zhejiang Art Museum is located.
Fu moved to Taiwan in 1949, never to return to Hangzhou. He then became one of the spearheads of the ink art movement there and devoted himself to fine arts education.
He moved to San Francisco in 1990 and died there.
Fu's family believed that the donation of his works to the museum would be the best way to mark the intense homesickness he felt over the years.
The Fu family transported to Hangzhou a treasure trove of more than 570 works, in four batches, from 2010 to July 2016. The works included Fu's ink-brush paintings, drafts, calligraphic pieces, diaries and carved seals, as well as his collection of works by established modern artists and his letters to some of them.
A selection of these are now on display at the National Art Museum of China in Beijing.
The exhibition, Sincere Heart and Flying Dreams, is named after Fu's studios: one used when he lived on the mainland and then in Taipei and the other used after he settled in San Francisco.
One part of the show focuses on Fu's artworks as a testament to his cultural attainment.
At an early age, he studied calligraphy, classical poetry and seal art under his grandfather. He later learned ink-brush painting at the Xiling Calligraphy and Painting Society for seven years.
In his mountain-and-water landscapes, Fu infuses his love of West Lake and the scenes in southwestern China where he traveled extensively in the late 1930s and early'40s.