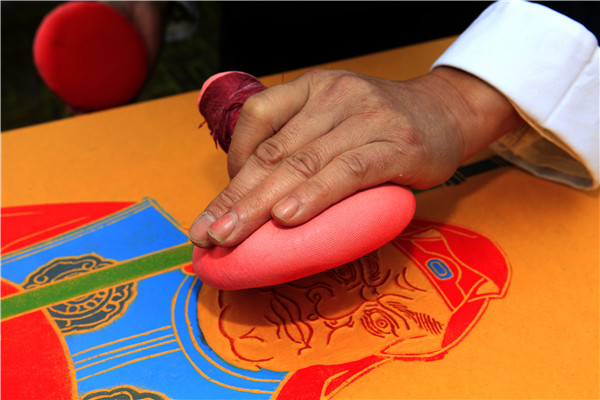 Wang Jisheng practice the ancient stone rubbing art in Guilin, Guangxi Zhuang autonomous region. [Photo by huo Yan / China Daily]
What is stone rubbing?
Stone rubbing refers to an ancient art of printing stone inscriptions on Chinese art papers with Chinese ink, or other organic pigments.
The artist brushes the clean stone surface with sticky liquid obtained from boiling bletilla, a kind of plant with tuber stems rich in starch, sticks the paper on the surface evenly, and then gently taps the paper with a soft mane brush, so as to make sure that the paper over the intaglio sinks into the inscriptions and the rest of the paper tightly clings to the stone surface.
When the paper is half dry, in each hand take a small cloth bag, which contains cotton soaked with Chinese ink, and tap every part of the paper lightly three times. The part of the paper that has sunk into the intaglio will remain white, and the rest of the paper turns black. Remove the paper from the stone and dry it in shade. You can then see the stone inscriptions copied onto the paper.