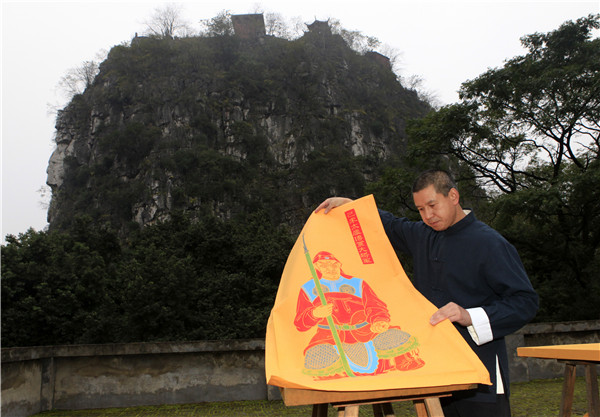 Wang Jisheng practice the ancient stone rubbing art in Guilin, Guangxi Zhuang autonomous region. [Photo by huo Yan / China Daily]
The stone inscriptions on Duxiu Peak, in its caves and on stone tablets in nearby temples, in the form of calligraphy and various patterns, have attracted Wang since he first saw them in 2002 when he came to Guilin from Beijing.
Unlike black-and-white stone rubbing, Wang uses mineral and plant pigments in his rubbing work.
So when he rubs a Buddha pattern from the tunnel wall of an ancient temple, which dates back to the 17th century, he colors his rubbings according to his understanding of the work.
He uses Chinese art paper that is specially made by small workshops.
"The paper and the pigments are a perfect match, as they play up each other's strengths, and give the images and characters on paper a stereoscopic impression," says Wang.
"It is not a copying, but an artistic re-creation. The choice of materials is part of the re-creation."
"When I rub on the stone alone in the tunnel, or on the mountain, I focus on every detail of the inscription," says Wang.
"The bright color gives life to the dead stone inscriptions," says a tourist surnamed Zhang from Changchun, Jilin province, who is in her mid-30s, after seeing Wang's work.
"He seems to have the talent to wake up the wildest ancient totem hidden in the mountains through his modern art."
"I choose the color according to the characters. Some are civil officials, some are military officers, and some are celestial beings or religious figures. I study details of the inscriptions, the history related to them as well as the ancient artists who created them hundreds of years ago," says Wang.
"They (the characters) set the borders for my art, and I fill in color within the borders. I imagine how they (the artists) constructed the characters in their hearts exactly at the moment when they created them."