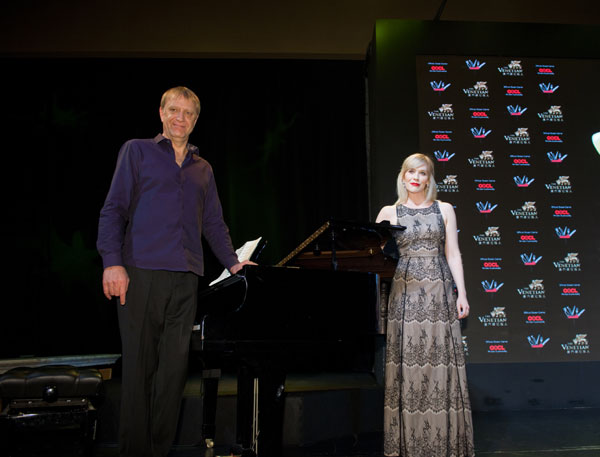 Music director Paul White (left) and actress Erin Cornell at the Venetian Theatre. [Photo/China Daily]
White, who is from Australia, has studied classical piano since childhood. He worked on jazz, pop and has been involved with major music theater productions in the past 25 years, such as Les Miserables and West Side Story. The musician believes that the music is the "ultimate magic of the show".
Based on English poet T. S. Eliot's Old Possum's Book of Practical Cats, Webber's musical premiered in London's West End theater in 1981. The following year, it was staged on Broadway. Since its debut, Cats has been presented in 26 countries and more than 73 million people have seen the show worldwide, according to the production's team manager Makayla Bishop.
She and other members of the production were in Macao ahead of the show.
"The musical overcomes cultural differences and different generations can identify with it. Children can get excited seeing the dancing of people dressed up as cats in costumes and wigs. Older generations can enjoy it because it's nostalgic. They remember hearing those songs, especially Memory, on the radio after it first came out by different artists covering it," Bishop says.
Erin Cornell, who plays a principal character called Grizabella in the musical, says that she received intense training to move like a cat.
Yet the most challenging part for her, even today, is to "keep Grizabella consistently truthful to every performance".
"Grizabella's singing Memory, which is a nostalgic remembrance of her glorious past and a hope to start a new life, is the climax shared by many audiences around the world. Every night, I need to go back to her truth and connect with the audiences," Cornell says.
When the musical was staged at the Great Hall of People in Beijing in 2004, White was there and he recalls even those who weren't familiar with such shows stood up for a long ovation.
"The show is a big part of my life and I have never envisioned that I could be with it for such a long time. Though I have other projects to do, I always come back to Cats," White says. "Sometimes I watch the musical from backstage and sometimes I walk among the audiences. I feel that it's unbelievable to have such a dynamic musical. It's a blessing."