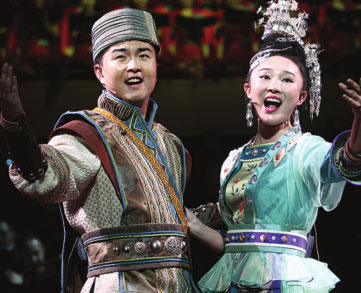 Dong ethnic villagers from Xiaohuang, Guizhou province, perform in the musical Sing for Love at the National Center for the Performing Arts on Thursday in Beijing. [Photo by Zou Hong/China Daily]
Xiaohuang village is located in the hilly Congjiang county of southwestern China's Guizhou province, and is some four hours by road from Guiyang, the provincial capital. Xiaohuang is home to the ethnic Dong group, members of which call their abode the "village of songs", owing to the dage (polyphonic folk songs) played there.
Dage are often described as a cappella performed by multiple singers.
More than 60 Xiaohuang residents, aged from 5 to 80, traveled from their village to Beijing on Jan 8, to participate in a musical titled Sing for Love at the National Center for the Performing Arts. The musical was based on a traditional Dong tale of Zhulang and Niangmei, two young lovers who flee their respective homes in the fear of being forced into arranged marriages.
The show also witnessed performances by a 90-member ensemble from the Chinese National Orchestra, an established orchestra known for performing traditional folk music, and the Singing and Dancing Troupe of Qiandongnan Miao and Dong Autonomous Prefecture, from Guizhou province.
The dage performers sang songs that portrayed the Dong people's long history, the natural beauty of their village and their daily lives. Jiang Buxian, a member of the singing and dancing troupe of Qiandongnan, wrote the script for the musical.
He is the artistic director of the troupe and also the director of Dage Art Troupe of the same prefecture. Jiang Buxian, who plays the niu-tuiqin (traditional string instrument), played a solo piece onstage during the show.
According to him, the Dong people do not have their own written language, so they record their history and culture through songs. They sing about farmlands, mountains, rivers and romance. In 2009, dage was recognized as an Intangible Cultural Heritage of Humanity by UNESCO.