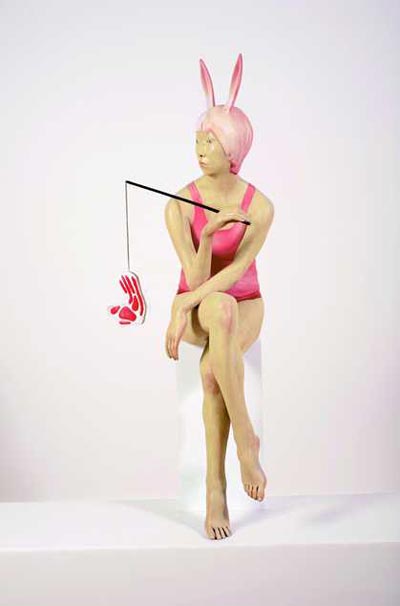 Carnivore, a sculpture by Qin Weihong, is one of the artworks sold in Uupp. Photo provided to China Daily
First-time visitors to Uupp may wonder if it is an art gallery or a home-decor store. Paintings and sculptures are on display, together with lamps, mirrors, tables, chairs, glasses, cups, books, towels and sunglasses.
Located near Beijing's 798 Art Zone, this shop is a new platform, which brings art into people's daily life, says owner Xu Ning.
"I call it a 'shop for art derivatives'," Xu says.
Xu was previously the editor-in-chief of the art magazine Harper's Bazaar Art in China. The retail idea came in 2013. After editing art stories for many years, Xu decided he should do something more "realistic" in the art world.
As he had good connections in China's art circles, Xu persuaded many of his artist friends to sell their works in Uupp.
Artist Jiang Chuan has created several giant paintings of young women in the fo
rests with wildlife. His paintings, generally priced at 100,000 yuan ($16,270) each, give a quiet and natural atmosphere to Uupp.
Works by Zhou Chunya and Qin Weihong are also available in the store.
Zhou has a series of paintings named Green Dog. The painter has developed some porcelain decorations based on his paintings, which are sold in Uupp. Qin's sculpture, Carnivore, is a small figurine of a girl with two bunny ears, holding a piece of meat in her hands.
"These works are from artists, but they also function as a beautiful decoration at home. Art brings beauty, but it should go deeper into people's lives. I think by making the art into products, consumers will know more about art and feel they are closer to the beauty," Xu says.