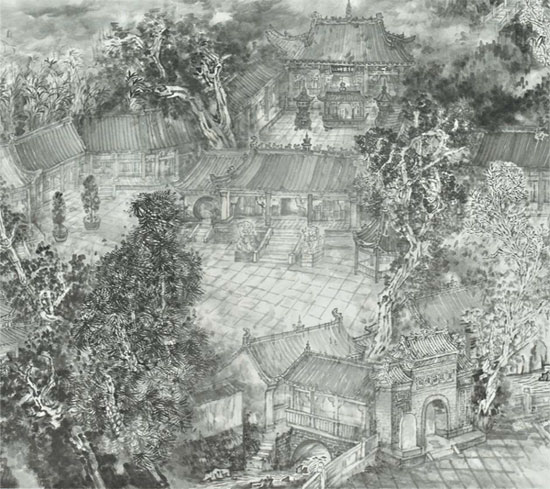 Part of Zhang Liang in the Woods.
Wang Baoan takes Mother Nature as his favorite muse
Wang Baoan says he paints because it takes him closer to nature and that he thrives off the feeling of liberation it gives him.
"Painters today believe that it will be out of fashion to stick to tradition," Wang said. "Trendy but mechanical stuff fills their work and no one really cares about nature or life, anymore."
Creating mostly landscapes in ink and watercolor, one of the main categories of traditional Chinese painting, the 50-year-old artist shows a unique interpretation in his attitude to life and interactions between human beings and nature.
Rejecting repetition in a painting, Wang noted "I like thinking - I'm always exploring new ways to better express myself."
His eagerness to present works in various styles makes Wang a keen observer of life, according to critics.
He said that Chinese painting is about showing the spirit and essence of things - the unspoken connection between painter and object.
As an artist living in modern times, nature is something that is sometimes out of sight but never out of mind.
He paints the mountains and woods where people live a reclusive life but also depicts a longing for a laidback and carefree lifestyle.
His paintings are bathed in an otherworldly blur made with seemingly casual lines and strokes.
Experimenting with different styles and painting freehand enable the painter to retain a distinct voice in the ever-changing art world, critics say.
Related: Portrait of the artist