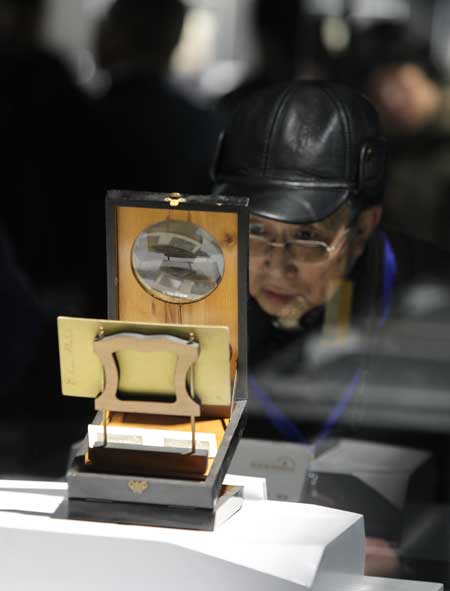 A visitor enjoys an exhibit at the section on 3-D printing. Zhu Xingxin/China Daily
China Photography Exhibition Center, the first photography-themed exhibition hall in China, was opened in Beijing in late December. Experts from the China Photography Association spent the past year sifting through vast archives and collections in an attempt to curate the most comprehensive and powerful exhibition of introducing China's photography from 1840 to the present.
The results are three exhibitions, which have been launched at the center at the same time - Spanning 100 Years - China Photography Art and Technology, China Camera and China Photography Documents.
Walking into China Photography Exhibition Center, which is located in the downtown capital and takes up more than 2,000 square meters, visitors see more than 200 classic photos taken by both Chinese and Western photographers that show the changes of Chinese society and the development of the country's photography technology.
The first photo people see is a self-portrait of Luo Yili. Louis Jacques Mande Daguerre, the French artist and photographer, grabbed the attention of the world in 1839 with a new invention: the daguerreotype, which was considered to herald the birth of photographs. These magically detailed, one-of-a-kind images on silver-plated sheets of copper were quickly brought to China.
Luo (1802-1852), who came from Xinhui county of Guangdong province, was one of the earliest Chinese photographers then. Luo's self-portrait kicked off photography's development in China.