Participants in international photo contest say city is full of 'endless' opportunities for taking rich images.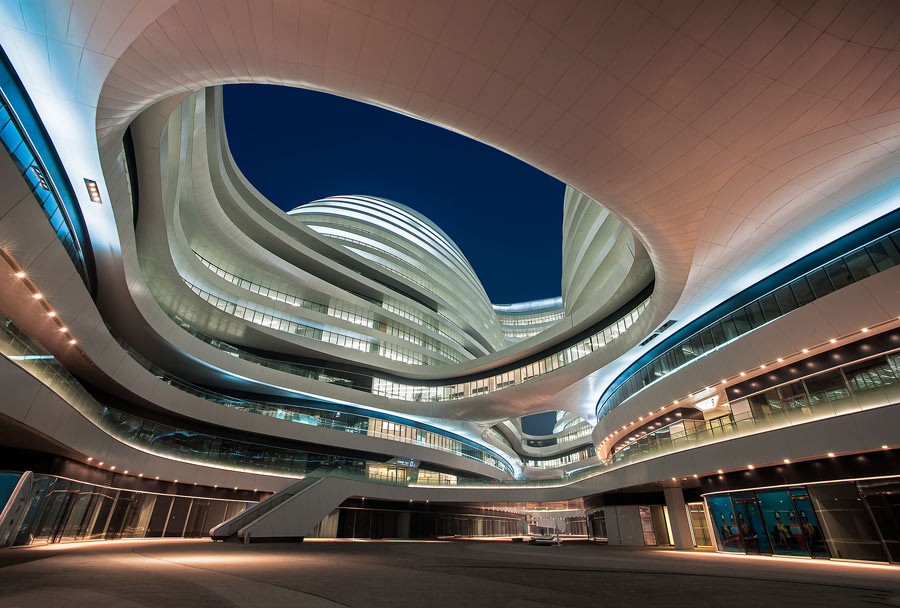 First place winner Curves and Lines, was taken by George Doupas from Greece at Galaxy SOHO in Beijing.George Doupas / provided to China Daily
Organizers of an international photo contest say it is helping to build the Beijing brand and give foreigners a deeper understanding of this ancient and ever-evolving city.
The Beijing in the Eyes of Foreigners contest has been held annually since 2009.
Between May and the end of October, the competition received more than 4,100 entries from 180 photographers. The participants came from 57 countries.
While most of the photographers live in Beijing, the contest plans to expand to interest more visitors, said Li Xiaoqiang, deputy director of the Beijing People's Association for Friendship with Foreign Countries and a member of the organizing committee.
The 2013 theme was "beautiful Beijing" and involved group field trips to Yanqing county and the Beijing Garden Expo.
An expert panel later chose 50 images for awards, with 14 photographers singled out for the top prizes.
The first prize was shared by George Doupas of Greece and Stephen Shaver, chief photographer at United Press International's China bureau.
"The possibility Beijing offers to photographers is endless," said Doupas, who won first prize with Curves and Lines, which he took at the downtown Galaxy SOHO.
Beijing has a rich history, present and future, said the 59-year-old, who has lived in the capital for four years.
On his winning image, he said Galaxy SOHO was a beautiful place with a great many shapes and that people never tire of seeing it.
Shaver of the UPI press agency said, "It's always interesting to view a city through the eyes of a stranger, which of course broadens one's understanding of various cultural perspectives".
Despite problems with air quality, there are many great reasons to explore the city, he said, such as its hutong, restaurants, temples and parks, as well as lots of modern architecture.
Shaver shared first prize for his photo Chinese Soldiers, which shows soldiers as they prepare for honor guard duty at a welcoming ceremony on June 19.
"What struck me is how precisely the soldiers are lined up, almost perfectly," he said.
One thing that militaries around the world have in common is precision down to the last detail and China's honor guard is pretty impressive, he added.