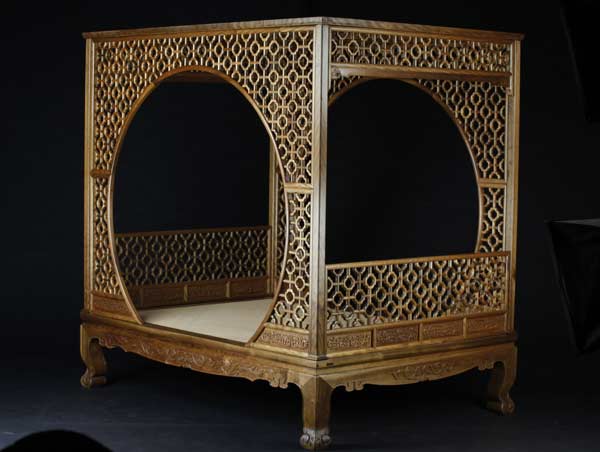 A bed made of jinsi namu wood is a highlight of Guardian Auctions' autumn sales.
China Guardian Auctions is previewing and will hold its autumn sales through the weekend till Nov 24 in Beijing. Highlights include an immense collection of 450 ancient books, classical furniture and articles for amusement from the late art connoisseur Wang Shixiang, as well as 16 pieces of jinsi nanmu furniture that are consigned by Nan-shufang and were designed by classical furniture experts Zhang Dexiang and Curtis Evarts, who befriended Wang.
Jinsi nanmu is a kind of phoebe nanmu wood that shimmers with golden glazes. It features a smooth texture and emits a faint fragrance. It was widely used as an architectural material in Ming and Qing imperial courts. It is now mostly used to make fine furniture.
Modern designs of jinsi nanmu furniture will make a debut in Guardian's sales, which reflects people's need for furniture that inherits classical wood art while adopting innovative approaches, says Qiao Hao, head of Guardian's furniture and work of art department.
Related:
Guardian Auctions has handled many of China's valuable cultural relics over their 20 years in business. Now, a retrospective exhibition displays some of the most breathtaking pieces of China's past that have passed through their hands. More...