Shen Shou's portrait of the monk Ji Gong was embroidered in 1905. Provided to China Daily
Embroidery artists of Suzhou fostered a new realism in stitches, Zhang Kun reports in Shanghai. Embroidery is such an important legacy for Suzhou that the city built a museum for the handicraft. Masterpieces by the greatest artists of Suxiu (Suzhou-style embroidery) are among the collection at the Suzhou Museum.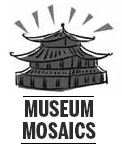 One of the finest examples of embroidery art is probably a scroll by Shen Shou (1874-1921): a portrait of Ji Gong, a famous Buddhist monk from the 12th century.
Shen Shou was originally named Shen Yunzhi, also named Xuehuan, and her greatest achievement was to create realistic embroidery techniques that represent true-to-life images, in contrast to the traditional stylized patterns.
In 1904 her embroidery works were presented to the Empress Dowager Cixi during the celebration of her 70th birthday. The empress was so impressed that she wrote the Chinese character "shou" (meaning longevity) for Shen. Shen then adopted the character as her new name, and became known as "Shen Shou".
In that year Shen was sent by the government on a study trip to Japan. Upon her return, she was designated as the chief coach for the imperial embroidery crafts department.
Her fame grew as her crafts improved. She gradually developed her original style, creating strokes with needle and threads that were as vivid as a painting's.
The portrait of the monk Ji Gong was done in 1905, when she was 31 and achieving artistic maturity and fame.
In 1911, her embroidery portrait of the Italian queen was presented as a national gift to Italy and later exhibited in public, winning international glory for the traditional Chinese handicraft.
Ji Gong was a real person in the Song Dynasty (960-1279) that turned into a legendary figure in literary works.
According to the folklore of Hangzhou, Zhejiang province, Ji Gong was a weird monk who didn't follow the strict rules of Buddhism. He ate meat and drank liquor, but was believed to have magical powers and worshipped by the people.
This portrait of Ji Gong is embroidered on a piece of light blue silk 88 cm long and 34 cm wide. It pictures the monk walking toward two jars of wine. He steps unsteadily and his eyes are glued to the jars. There is a smile of intoxication on his face and a banana-leaf fan in his hands.
The vivid lines, textures and shadows are very different from traditional Chinese ink art or embroidery.
The cords on the jar are depicted so convincingly that they seem real, said Wang Huixiang, a curator with Suzhou Museum.
People in the Yangtze Delta area started to farm silkworms and make silk textiles thousands of years ago. Silk making and embroidery became very common in Suzhou after the 12th century.
Shen started to learn embroidery from her elder sister Shen Li, at the age of 7.
According to Zhang Yinglin, former director of Suzhou Museum, the two sisters worked together on embroidery all through their lives, improving each other. "It's safe to say that her sister contributed a lot to the great achievement of Shen Shou," Zhang wrote in an essay about the art of embroidery.
Shen Shou's husband Yu Jue worked together with her in Suzhou in the early years, doing calligraphy and drawing patterns for her embroidery. But later on, as Shen rose to fame and their financial condition improved, they became estranged.
In 1914, a pioneering entrepreneur Zhang Jian established a women's handicraft workshop in his hometown of Nantong, Jiangsu province, and invited Shen to be the director and coach.
Embroidery from Nantong gained market recognition home and abroad under the instruction of Shen. She also shared her artistic view with students: to learn from life, rather than copying from the ready patterns. For example, when you embroider a flower, pick one and place it by your frame, and check it out as you work on.
When her health declined, Zhang feared that the expertise for embroidery would be gone with Shen. So Zhang compiled a book of eight chapters named Xuehuan Xiupu (Xuehuan's embroidery patterns), summing up her experience and knowledge.
Shen died at the age of 48 in 1921 and was buried in Nantong according to her will.
There was gossips about the emotional entanglement between Zhang Jian, Yu Jue and Shen Shou, but if the art of embroidery is removed from the context, the collaboration, dispute, estrangement and entanglement is not worthy of any discussion, said the former museum director Zhang.
IF YOU GO:
SUZHOU MUSEUM
9 am-5 pm, daily except Mondays
204 Dongbei Street, Suzhou, Jiangsu province
Free admission
0512-6757-5666
Contact the writer at zhangkun@chinadaily.com.cn.