Stitches from time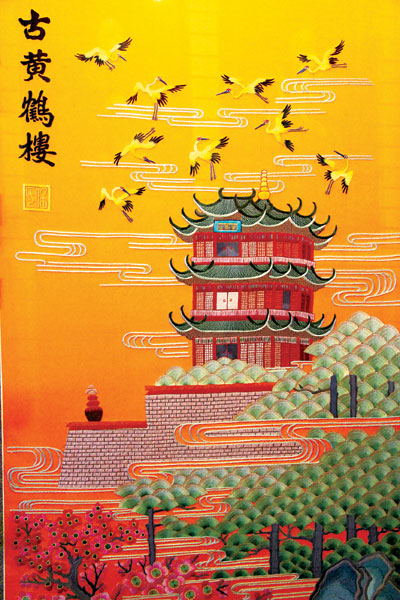 One of Ren Benrong's works, Yellow Crane Tower, or Huanghelou (above) features a historic landmark in his hometown of Wuhan. Photos Provided to China Daily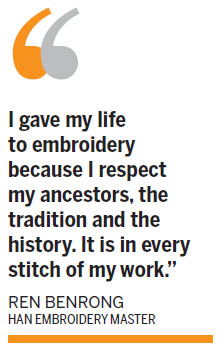 Embroidery is part of the Chinese cultural fabric, and there are many schools with unique stitches, designs and characteristics from various regions. One of the most long-lived is Han embroidery, from the central plains, which dates back to beyond 2,000 years. Wang Ru talks to a guardian of the ancient art.
When Red Guards broke into his home during the "cultural revolution" (1966-76), they destroyed more than 200 pieces of embroidery that Ren Benrong had in his collection. He stood aside and watched. As Ren, now 78, witnessed them burn the centuries-old elegant handcrafted work that he had inherited from his father and grandfather, he could not hold back his tears of anguish, but he also felt relieved of a heavy burden. "Most the embroideries were from theatrical costumes of plays about emperors and imperial families, all in the deeply-hated category of 'feudalism's evil legacy' then," Ren explains.
Decades later, he is sitting in his new embroidery studio in a cultural heritage community in Wuhan, capital of Central China's Hubei province, where he had moved to in August last year. He is master of more than 200 apprentices, all here to learn the ancient art of Han embroidery.
It is a style that originated in the ancient state of Chu during the Eastern Zhou Dynasty (770-256 BC), in what is now central China, along the hinterlands of the Yangtze River.
Han embroidery is known for its rich colors, bold designs and fine techniques. Many samples of Han embroidery were discovered in excavated tombs dating from 2,000 years ago.