Marathon bombing survivor on screen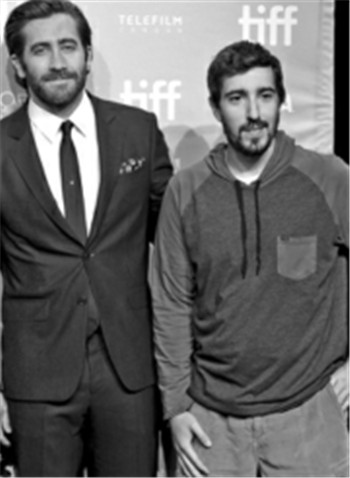 Actor Jake Gyllenhaal (left) and Jeff Bauman attend the Stronger news conference during 2017 Toronto International Film Festival on Sept 9. [Photo/Agencies]
A film chronicling the story of Boston Marathon bombing survivor Jeff Bauman
premiere
d in the United States on Tuesday at the hospital where he and others who were injured in the 2013 deadly attack were treated. Dozens of people attended the screening of
Stronger
at the Spaulding Rehabilitation Hospital in Boston.
The movie is based on Bauman's 2014 memoir by the same name.
The movie stars Jake Gyllenhaal as Bauman, who lost his legs in the attack, and Orphan Black actress Tatiana Maslany as Bauman's then-girlfriend, Erin Hurley.
Bauman, Hurley and their on-screen counterparts graced a red carpet at the hospital on Tuesday with director David Gordon Green, producer Todd Lieberman and writer John Pollono.
Hurley was running the marathon and Bauman was there to cheer her on when two bombs went off near the finish line on April 25, 2013, killing three spectators and injuring more than 260 others, including Bauman. Gyllenhaal and Bauman walked side by side down the red carpet at the hospital, where Bauman spent grueling months in intensive rehabilitation.
Bauman, who uses prosthetic legs, and Gyllenhaal became close during filming and remain friends.
"No matter how hard I tried, I would never really understand what Jeff has been through," Gyllenhaal says, when asked how he approached the role. "I spent a lot of time with Jeff. There wasn't a moment that went by when we were filming that I wasn't thinking about (him)."
Bauman says he's "honored" to have Gyllenhaal play him in the film.
"He's a great guy. He works hard," Bauman says. "He's a good role model."
The Spaulding premiere marks Bauman's third time seeing the film, but this time he viewed it with the people who worked alongside him in his recovery, many of whom are in the film. As they entered the building, attendees were met with cheers from a crowd of patients who gathered on the second floor, holding signs that read "Boston Strong," "Go Jeff" and "You give me hope."
The movie hits US theaters on Sept 22.
Bauman and Hurley, who had a daughter and got married in 2014 and separated this year, say they hope it inspires audiences to realize their strength.
"I think people would be surprised at how much they can handle," Hurley says. "I definitely was surprised at how much Jeff and I could handle ... after this happened to us. I think that everyone can find the strength in themselves to handle tough situations."
    ASSOCIATED PRESS