Secrets behind the success of BRICS evening gala
Performers take part in an evening gala for the 2017 BRICS Summit and the Dialogue of Emerging Market and Developing Countries in Xiamen, East China's Fujian province, Sept 4, 2017. [Photo/VCG]
After eight months' delicate preparations, an evening gala Sail to the Future for leaders and representatives attending the 9th BRICS Summit was held at the Banlam Grand Theater in Xiamen, East China's Fujian province.
Based on the theme of "sea", the gala consists of five chapters including Wind from the Sea, Sky and the Sea, Rhythm of the Sea, Tide and the Sea as well as the Dream from the Sea, highlighting the unique Fujian culture while introducing the strongest features of Xiamen.
Taking advantage of 'sea' element to promote cooperation
Sea was the central idea that ran through the whole gala as it is also one of the most distinctive characteristics of Xiamen, a city with three sides facing the sea.
A group of dancers created "billowing waves" during the performance, marking the opening of the evening gala.
In the second part, the popular Chinese song The Sea, My Sweet Home featured the life of the people living in this area, and their proud Fujian, or Minnan culture.
"The unique geographic advantages and of the costal city and the local lifestyle gave us much inspiration of the evening gala," said Xie Nan, general director of the evening gala.
"Many Minnan culture elements, including Fujian opera, fishing culture and Fujian Nanyin, hailed as a "living fossil" of ancient Chinese music, all were incorporated into the stage performance."
"I experienced a great artistic baptism after directing the gala. The combination of Fujian Nanyin and Western symphony symbolized the harmonious co-existence of Eastern and Western culture," Xie added.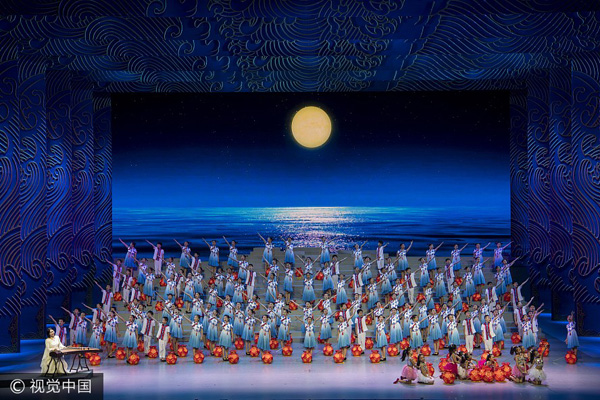 Performers take part in an evening gala for the 2017 BRICS Summit and the Dialogue of Emerging Market and Developing Countries in Xiamen, East China's Fujian province, Sept 4, 2017. [Photo/VCG]