Mixing diplomacy with a film festival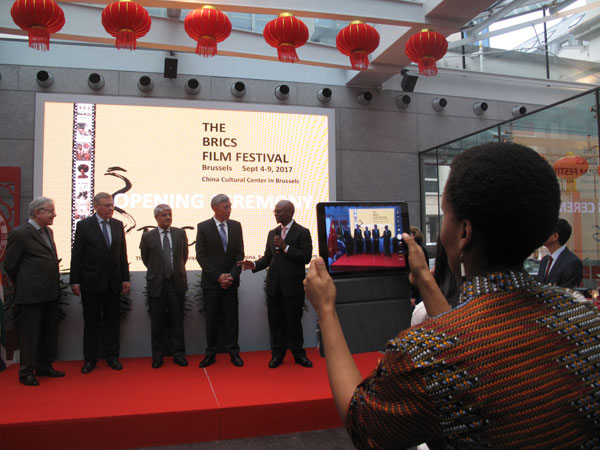 The BRICS countries' ambassadors and representative (from left) Jose Vallim Guerreiro, Alexander Tokovinin, Rakesh Arora, Qu Xing and Baso Sangqu (from left to right) open a film festival on Monday in Brussels. [Photo by Fu Jing/chinadaily.com.cn]
While the leaders of BRICS countries pledged increased cooperation at the annual summit in China's Xiamen, Fujian province, their Belgian embassies echoed the commitment by launching a film festival on Monday in Brussels.
The festival, hosted by the Chinese embassy in Belgium, is scheduled for Sept 4-9 and will be followed by a conference themed on the global role of BRICS on Friday.
Chinese Ambassador to Belgium Qu Xing joined Brazilian Ambassador Antonio Jose Vallim Guerreiro, Russian Ambassador Alexander Tokovinin, Charge d' Affaires at the Indian embassy in Belgium Rakesh Arora, and South African Ambassador Baso Sangqu at the launch ceremony.
From Tuesday to Saturday, two films from each BRICS country will be screened at the China Culture Centre in Brussels. On Friday, movie-goers can watch Chinese films Born in China directed by Lu Chuan and Let's Get Married directed by Liu Jiang.
"The first film is talking about China's wild animals, nature and scenery, and the other is about Chinese young people's life," Qu Xing said at the launch ceremony.
Qu said that the festival has won support from all the embassies of BRICS countries in Belgium. Other ambassadors and representative from BRICS countries have introduced their films at the ceremony.
At the same time, the three-day BRICS summit and the sideline events held from Sunday to Tuesday, which have involved businesses and leaders of developing countries, also have attracted the attention of European politicians.
They urged the BRICS nations to enhance their cooperation with the European Union.
"We hope to see BRICS countries contributing more proactively for the creation of a multi-polar world," said Jo Leinen, chairman of the European Parliament Delegation for Relations with China.
"The world needs the BRICS to defend open and fair international trade against the rising protectionism," Leinen said.
Leinen also said that the BRICS nations and the EU should work together to enhance the global governance.
"Climate protection, enforcement of the Paris Agreement and implementation of the 2030 Agenda for Sustainable Development are all common ground for EU-BRICS cooperation," said Leinen.