Annual film festival promotes growing cultural exchanges
The second BRICS Film Festival, held in late June in Chengdu, showcased excellent films from Brazil, Russia, India, China and South Africa, promoting cultural exchanges among representatives.
Part of a series of events during the ninth BRICS Summit being hosted in Xiamen in September, the festival represented openness, inclusiveness and a win-win situation, according to organizers.
Activities held at the festival included movie shows and awards, a cooperation forum and the national film day activity.
Ten films that competed at the event, including Soulmate from China and Hatchet Hour from South Africa, represented the latest achievements in film development in different countries, according to the festival's organizing committee.
The film festival, for the first time, held the national film day activity for each country to showcase their respective excellent films and distinctive movie cultures.
The innovative activity helped further viewers' understanding of BRICS members, an insider said.
Where Has Time Gone, the first film co-produced by BRICS members, was screened as the opening film of the festival. Five directors from China, Russia, India, Brazil and South Africa each shot a short section and then worked together to edit the final 110-minute film.
Jia Zhangke, a Chinese director and also the film's producer, said that the theme of time reflects common social development backgrounds of BRICS members.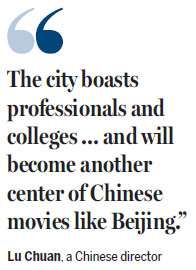 "They are all experiencing rapid economic development and face huge social changes," Jia said.
By exploring the theme, the film focused on the changes in individual emotions and group life in a rapidly-developing society.
The film was given a "Special Contribution" award by the festival's organizing committee at the closing ceremony and said to be an innovative fruit of cultural communication and film cooperation among BRICS members. It is scheduled to be officially released in China in September.
At the BRICS Film Cooperation Forum during the festival, a film co-production plan was launched for 2017 to 2021. According to the plan, artists from BRICS members will co-produce a film annually in the coming five years.
Participants of the festival praised Chengdu, especially after they visited the city's scenic areas such as the Chengdu Research Base of Giant Panda Breeding and the Chengdu Wuhou Shrine.
Alexandre Rodrigues, who starred in classic Brazilian film City of God, said Chengdu has great diversity and that visiting the Wuhou Shrine was a truly memorable experience.
Neelakanta Reddy, an Indian film producer, said that he was struck by the charm of traditional culture and modern civilization in Chengdu. "Visiting the Wuhou Shrine was like walking through history, yet outside the walls is a bustling modern city," he said.
Reddy added that he hopes to have the opportunity to cooperate with Chinese counterparts to produce films that are rich in culture.
Aleksey Fedorchenko, Russian director of Where Has Time Gone, was excited to see pandas and said that the animal is loved by people worldwide, and that any film involving pandas would be well received.
Lu Chuan, a Chinese director, said he appreciates Chengdu's film culture. "The city boasts professionals and colleges, including Sichuan University and Sichuan Film and Television University, and will become another center of Chinese movies like Beijing," Lu said.
Bollywood filmmaker Aamir Khan said on a recent visit to Chengdu that the city is like a paradise, where he came into contact with giant pandas and experienced local cuisines, attractions and culture.
He said he will use the perception and inspiration he received from the trip in his next movie creation.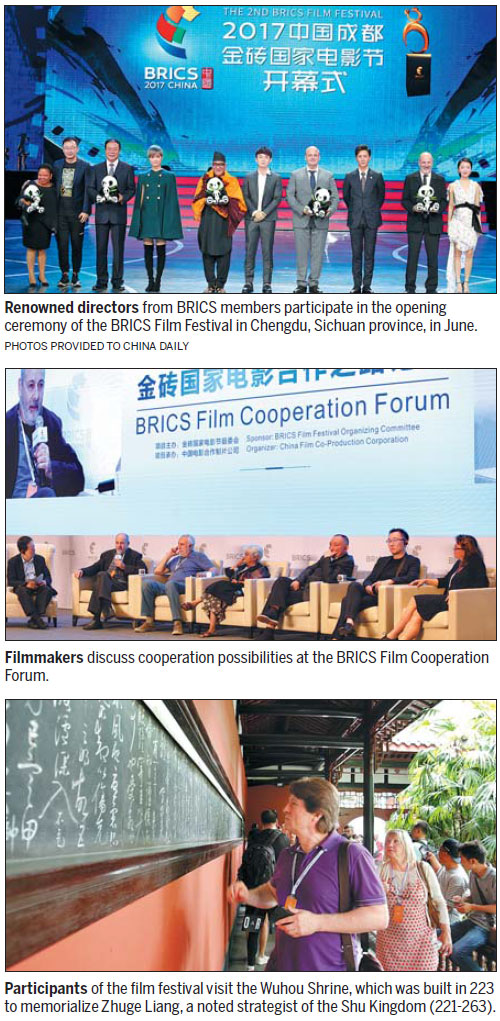 (China Daily 09/04/2017 page20)