Having faith in music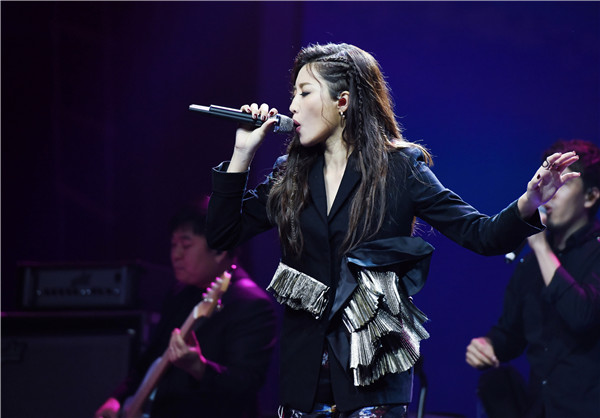 Taiwan pop singer A Lin performs at the first CMIC Music Awards in Beijing on July 20. [Photo provided to China Daily]
New awards aim to restore the dignity of China's music industry, lost due to piracy. Chen Nan reports.
In 2014, Song Ke was appointed chairman of the China Music Industry Committee, a nonprofit, which has more than 100 members belonging to record labels and distributors.
That year, Song turned 50.
"When you're 50, you still dream and want to do something that can be your legacy," says Song, the former head of Warner Music China and now the CEO of Ali Music Group, a division of e-commerce giant Alibaba.
Over the past three years, he has led the committee's discussions on recording copyright issues and promoted the government's regulations on them.
But it seems that has not satisfied him.
Being a central figure in the development of China's music industry for more than two decades, the dream he harbored for years was establishing authoritative awards for China's music industry.
On July 20, he realized his dream when he hosted the first CMIC Music Awards, honoring the best achievements of the preceding year in 32 award categories.
"We want to recognize talented people in the music industry and encourage young musicians. And most importantly, we can finally regain our industry's dignity, which we have lost," Song said onstage during the awards ceremony in Beijing.
"We have many music awards in China now, which have celebrities, screaming fans and generous sponsors. But it's more about entertainment. They have nothing to do with music," Song said. "It's time to have awards just for the sake of the music."
That night, Hong Kong singer Sandy Lam Yik-lin was awarded the best female vocalist and Hong Kong singer-songwriter Khalil Fong won the best male vocalist award. Pianist Lang Lang's New York Rhapsody won the award for the best classical album.