Traditional music salon kicks off Chinese cultural week in Sydney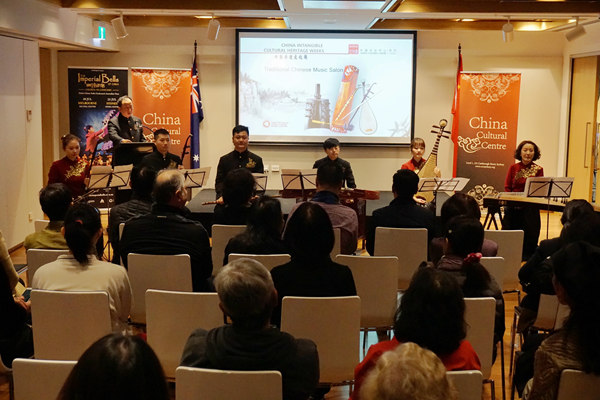 People attend a traditional Chinese music salon at the China Cultural Center in Sydney, July 22, 2017. [Photo/Chinaculture.org]
A cultural week on China's intangible cultural heritage kicked off with a music salon at the China Cultural Center in Sydney on Saturday, offering a chance for Australians to learn more about Chinese music, instruments and culture.
Hu Jian, head of the Chime Bells Orchestra from Central China's Hubei province, presented the most common ancient Chinese musical instruments, including guzheng (a Chinese zither), erhu (a two-stringed bowed instrument) and pipa (a four-stringed plucked instrument), followed by performances with these instruments.
The Chinese intangible cultural heritage week will last until August 5. A series of cultural events will also be held, such as exhibitions on ancient Chinese oracle bone scripts and creative cultural products, talks on Chinese calligraphy and Chinese medicine.