Heritage secured for future inheritors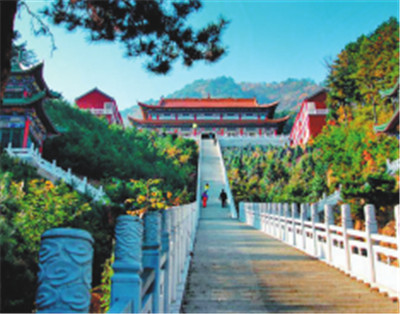 Wudang South is a Taoist temple complex overlooking the Huanggang Dabieshan Geopark. [Photo provided to China Daily]
The administration committee of Huanggang Dabieshan Geopark in Hubei province has worked hard to ensure that the park's successful development will benefit every one of its 100,000 inhabitants.
In addition to infrastructure investment that has rapidly increased locals' income and employment opportunities, the park's administration has also secured the area's intangible cultural heritage for many generations to come.
Wudang South, situated on Wujia Mountain at an elevation of 1,032 meters in the heart of the Dabie Mountain range, is a Taoist temple complex with commanding views over the geopark, and in particular the picturesque Tiantang Lake. Legend has it that Zhang Sanfeng, a Taoist master during the Ming Dynasty (1368-1644), cultivated his arts at Wudang South, which is famous as one of the holiest Taoist sites in China and a renowned martial arts base.
Wusheng Palace is the majestic cornerstone of Wudang South, comprising three courtyards and nine palace buildings that are nestled into the surrounding beautifully green landscape.
"Wudang South integrates the natural and human resources of the geopark and adds a new vital force and energy to the sustainable development of the culture, economy and tourism of Dabieshan Geopark", according to park officials.
The temple benefits from its location within the park's boundary, as each aids the other in drawing tourism income, which can then be reinvested in the development of the area and maintaining the palace complex.
The geopark has constructed a theatre for Peking Opera in Luotian county to demonstrate the area's historical links to the art form. The square in front of the opera house features China's largest hanging pot-used in winter festivals that see tourists come to share in a gigantic feast in the 5-meter diameter pot. But, center stage in the square is a monument to Yu Sansheng and the intangible cultural heritage he passed down. The creator of the world-renowned dramatic art form is memorialized as part of the geopark's mission to preserve cultural relics, while adding to its portfolio of tourist attractions at the same time.
In addition to cultural preservation, the park authorities have reached out to the community to aid them in understanding the outstanding natural beauty that is their home. The park has held educational events at Huanggang Normal University, Hangzhou Siyuan Experimental School, Yingshan Experimental Middle School-among others-and in the local communities within the park. The events aim to popularize the scientific discoveries made thanks to the park's research work and to raise awareness of the need to protect the precious and unique geological and cultural heritage of the area.