China's 'Island of Music' holds special event to celebrate UNESCO listing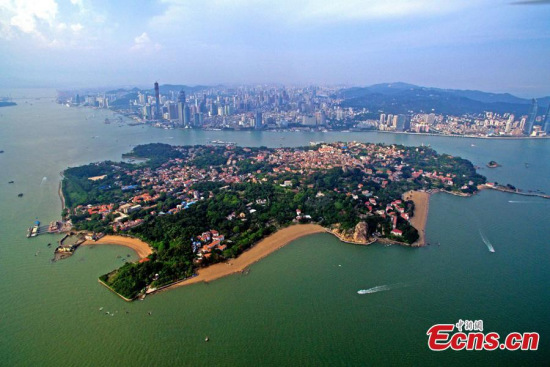 Kulangsu in East China's Fujian province, famous for its varied architecture and multicultural history, is included on the UNESCO World Heritage list, July 8, 2017. [Photo/China News Service]
At the 41st session of the UNESCO World Heritage Committee in Poland on July 8 this year, Kulangsu was officially listed as a World Heritage Site, casting a global spotlight on this tiny island in Southeast China.
To celebrate the recognition and to showcase the island's rich cultural heritage, the annual music festival was made extra special this year.
A large number of celebrated musicians and a wide array of performances by world-renowned artists were set as a musical extravaganza for the public.
Tapping into the profound heritage and prestigious reputation of Kulangsu as the "Island of Music", the festival was bound to become an iconic event in the musical scene on the island.
Over the past century, this tiny island has produced numerous world-renowned figures like Lin Yutang, Ma Yuehan, Hu Youyi and Shu Ting. Generation after generation of musicians, educators, writers, doctors and collectors from Kulangsu have left a mark on the world.
This exotic island has exercised a unique hold on the imagination of the outside world, earning a string of nicknames that include "The Garden on the Sea", "The World Expo of Architecture", "The Island of Music", and "The Capital of Music".