Treasured island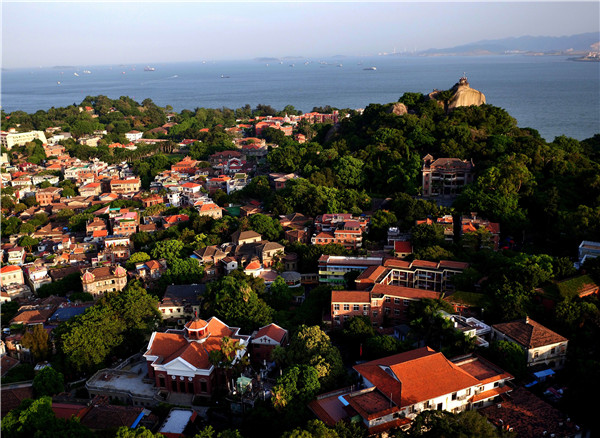 Gulangyu, the small sea island off the coast of Xiamen in Fujian province, boasts many 19th-century buildings as it was once clustered with Western religious groups, international institutions and foreign consulates. [Photo by Hu Meidong/China Daily]
With giant banyan trees shading its graceful European mansions, Gulangyu looks like a Mediterranean island in the South China Sea. Robin Goldstein reports.
The historical international settlement of pedestrianonly Gulangyu Island, in the bay of Xiamen, was made a UNESCO World Cultural Heritage Site at the 41st United Nations World Heritage Committee meeting in Krakow, Poland on July 8.
I first saw Gulangyu (known in the local dialect as Kulangsu) through the eyes of my partner, Yang Jing, a concert violinist who grew up on this 1.88 square kilometers islet. It's just an islet, officially, a small village of about 4,000 households and 14,000 people living on a small island in the shadow of the larger, newer island of Xiamen city.
Yang's family has been in Gulangyu for three generations. Before I set foot on the island, I had heard her CD Kulangsu: Through the Strings of Time-which combined classical music with natural sounds recorded from around the island-and Yang had explained to me that there were no cars or bikes allowed on the island.
She had told me of the narrow cobblestone streets that wind through hills and spill out onto tropical beaches lined with coconut palms.
She had described the giant banyan trees shading the graceful European mansions, the romantic couples posing for wedding pictures, and the 13 historical consulates that made Gulangyu look like a Mediterranean island plopped into the South China Sea.
But not even Yang's tales of beauty and charm could have prepared me for the magical experience of stepping off the ferry onto Gulangyu for the first time.
The 10-minute ferry ride from downtown Xiamen takes less time than your average city taxi trip, but it is a ride into another world, into a Chinese-Western past that you might not even know existed.
Like that of Venice, Gulangyu's air is just something that has to be breathed in to be understood.