Palm Beach, a period island in Florida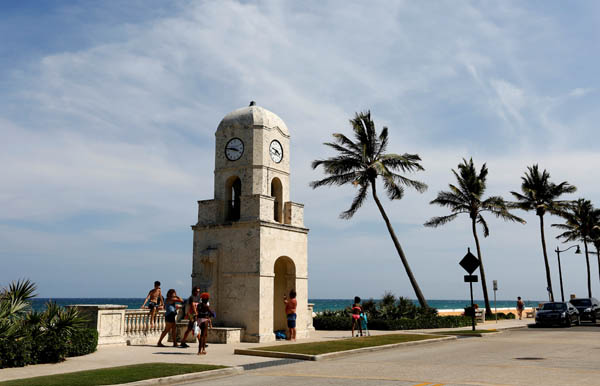 Beachgoers walk along Ocean Avenue near the Mar-a-Lago estate in Palm Beach. [Photo/Reuters]
An emerald-green 1970 Mercedes-Benz enters a red-brick driveway lined with swaying palm trees, a gentleman in white pants gets out, puts on his hat, softly flips his blazer, and walks into a hall of splendor. This is a common scene at the Breakers, a top-notch luxury hotel at Palm Beach, Florida. If we call Downton Abbey a period drama, then Palm Beach is a "period island" of the Gilded Age.
Stretching 26 kilometers from north to south, the island of Palm Beach is connected with the rest of Palm Beach County by three bridges. Seen from above, it is like a little gem floating on the turquoise waters. And it hangs on to its past glory.
"You don't wear white between Labor Day and Memorial Day, except on Palm Beach," goes a fashion saying in the United States. That speaks volume of the town's character.
Founded as a resort escape for the elites back in the late 1800s, the island saw a growing convergence of wealthy people in the 1910s and 1920s due to its warm winter.
"This started the historical development of Palm Beach being the wealthiest community in United States," says Rick Rose, a local historian who lives in Palm Beach County.
At that time, only the wealthy, or at least upper-class Americans, could afford to travel. They built boutique hotels, golf courses, and mansions. Their way of life continues to this day. During peak seasons, there are extravagant balls almost every night.
Edwin Muniz, assistant front office manager of the Brazilian Court, one of the well known boutique hotels on Palm Beach, says: "People here are more like old-money, established wealth."
Guests usually stay at Brazilian Court when they are on long vacations, say four to five weeks. "The rates are high, and the guests are very demanding, they expect high-quality service," says Muniz.