Military sculptors carve history into art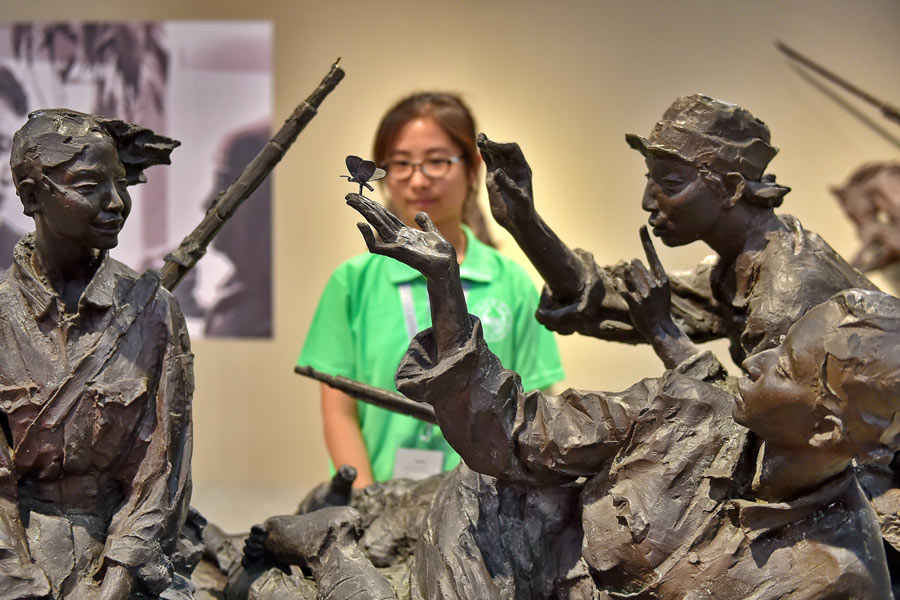 A student examines a sculpture named Eternal Youth at the Shanxi Museum in Taiyuan, Shanxi province, July 30. [Photo/Xinhua]
The first sculpture exhibition for active duty military artists kicked off at the Shanxi Museum on July 30 to celebrate the 90th anniversary of the founding of the Chinese People's Liberation Army.
Nearly 60 pieces are on display, spanning across a decade and featuring the history of the PLA and images of military heroes.
The seven sculptors, ranging from the post-50s to post-80s, are all from major artistic institutions such as the August First Film Studio and the Military Museum of the Chinese People's Revolution.
"These sculptures showcase the contemporary military artists' excellent techniques," Wu Weishan, curator of Chinese Art Museum, said. "They also illustrate a majestic aesthetic style which derives for the military life."
"This exhibition aims at showing the glorious tradition and strong ambition of Chinese soldiers," Shi Jinming, director of the Shanxi Museum, said. "We hope to let more people know about the Chinese troops and cherish our peaceful and happy life at present."
The exhibit, which is open to the public for free, will run through August 30.