Popular TV drama explores modern women's issues
 Substantial changes from original work
Although the drama has won the favor of many females, quite a few book fans sharply criticized the TV version for veering too far from the book's plot.
Isabel Nee Yeh-su and the cover of the book The First Half of My Life [Photo/Xinhua]
The book writer Isabel Nee Yeh-su, or Yi Shu in Chinese, has written over 300 books and is renowned for her female portrayals.
Most females in her books typically have different family and educational backgrounds, yet their personalities all have something in common.
Those females have a meta-character of a "Yi-Shu Lady", who are rich, fashionable and are particular about their life.
Luxury cars, brand clothes, shiny diamond rings and champagne are their requisite tags.
Also, they are independent both financially and in spirit, and do not think marriage is the be all end all.
In the drama, Luo Zijun is a typical petty-bourgeois individual. In her world, her husband means everything to her.
Luo also has poor taste in clothing and is bad at dealing with relationships.
All elements of the character Luo are contrary to the ideal "Yi-Shu Lady", which is unacceptable to many of the book lovers.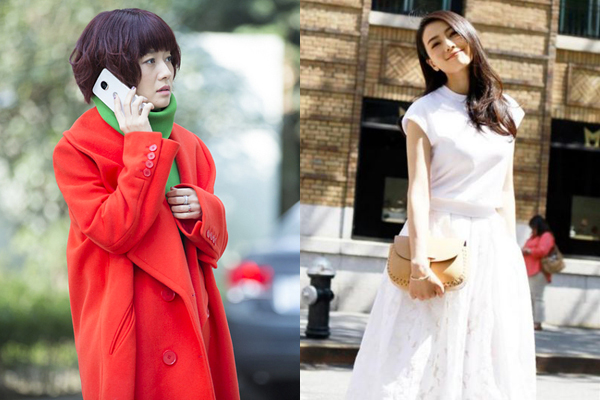 Luo Zijun (L) and the ideal "Yi-Shu Lady" [Photo/Xinhua]
Meanwhile, improper ethical values have been criticized by some viewers for degrading social conduct.
For instance, Luo fell in love with her best friend Tang Jing's ex-boyfriend He Han at the end of the story.
Although Luo is not the direct cause of Tang and He's break-up, many viewers complain that the love relationship between Luo and He is unreasonable and divorced from reality.