Chinese sci-fic writer nominated for second Hugo Award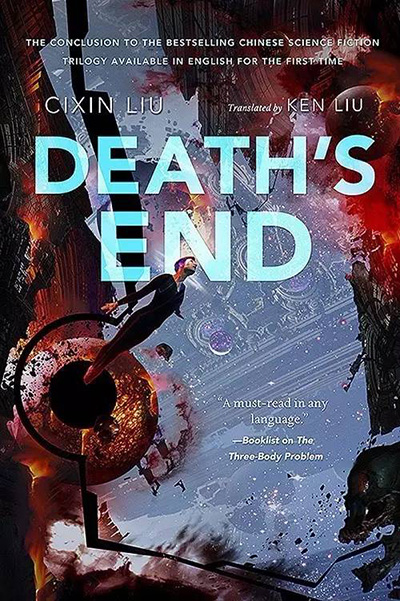 Front cover of Death's End, a third novel in Chinese writer Liu Cixin's trilogy Remembrance of Earth's Past. [File photo]
The finalists for the 2017 Hugo Awards, which celebrate the year's best in science fiction or fantasy works, were announced online by Worldcon 75 on Tuesday.
Chinese writer Liu Cixin, who was the first Asian writer to win the award, was nominated again this year for Death's End, a third novel in his trilogy Remembrance of Earth's Past. Liu previously won the award in 2015 for the first book in the trilogy, The Three-Body Problem.
Experienced American science-fiction translator Ken Liu again helped Liu to translate Death's End, as he did on The Three-Body Problem. Ken Liu's English translation was considered a great contribution to Liu Cixin's Hugo-Award winning novel in 2015.
If Liu Cixin wins, Chinese writers will have been recognized by the world's highest sci-fic honor for three consecutive years, following Liu's Best Novel win in 2015 and Chinese writer Hao Jingfang's Folding Beijing as the Best Novelette award recipient last year.
The Three-Body Problem has witnessed great worldwide success and was welcomed by a number of celebrities all around the world, including former US President Barack Obama and George R. R. Martin, author of A Song of Ice and Fire.
The 2017 Hugo Award's final voting process begins this week, and the winners will be announced on Friday, August 11, 2017, at the Hugo Awards Ceremony in Helsinki, capital of Finland.
Related:
Award-winning sci-fi novel adapted for stage
Chinese sci-fi hits peak after success of Three-Body trilogy