Witnessing the Buddha's unveiling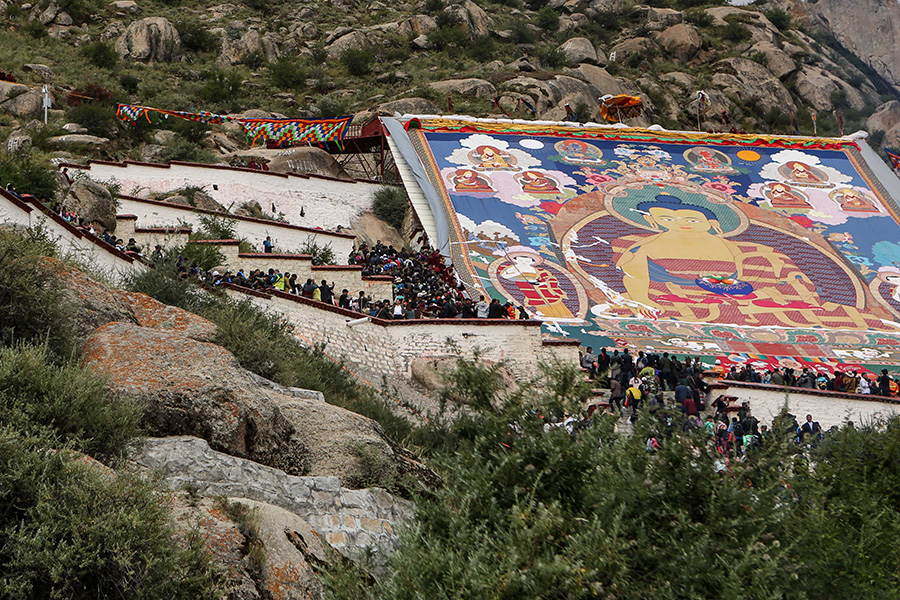 A huge thangka portrait of Shakyamuni Buddha is unfolded on a hillside behind Drepung Monastery in Lhasa, as one of the highlights of the Shoton Festival. [Photo/VCG]
It was a dark and rainy morning in the Tibet autonomous region, but my traveling companion and I could not sleep. The clock had not yet struck 4 am as we clambered out of our beds and prepared to make our way to the Shoton Festival, one of the region's largest annual celebrations.
A friend had advised us to get an early start if we wanted to secure a spot for the "sunning of the Buddha" ceremony, which marks the start of the festival at the Drepung Monastery on the outskirts of the regional capital, Lhasa.
We already considered ourselves lucky that our vacation coincided with the opening of the festival, so missing the unveiling of the 500-square-meter thangka, a religious silk embroidery or painting that is unique to Tibet, was unthinkable.
First we took a cab and then we walked, for about 40 minutes, to the foot of the hillside where the image of Buddha would be displayed.
The night was reluctant to recede and the rain refused to stop, so I put on my cowgirl hat that I had bought the previous day on Barkhor Street-Lhasa's best known shopping area-to protect myself from the elements as we walked on in silence, under the cloak of night.
Some Tibetan women joined us as we trekked, carrying children wrapped in papooses tied to their backs. There was also a group of foreigners, clattering along the trail on their bicycles with flashlights strapped to their heads.
Finally, we arrived at the foot of the hill, but were told it would cost 60 yuan ($8.70) each to go any further. This entry fee only applies to tourists. Ethnic Tibetans can attend the ceremony for free.