Witnessing the Buddha's unveiling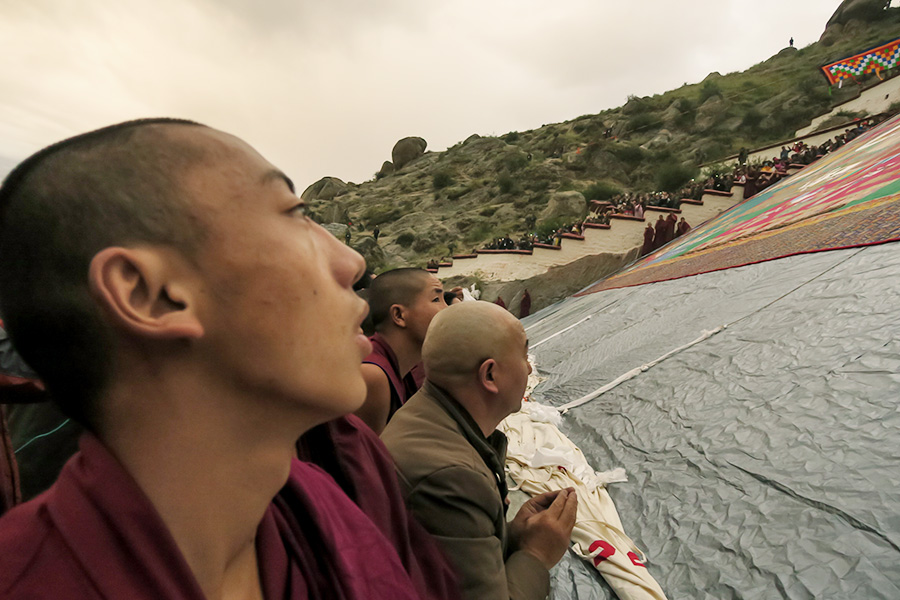 [Photo/VCG]
A vortex of humanity
My reverie was unexpectedly broken then by a hard shove in the side, and I realized the ceremony wasn't quite over yet. It may have been for me, as there wasn't much left to see, but for the believers, it had only just started-they were in the presence of the Buddha now and it was time to pay their respects.
Some in the huddled crowd had hurled their hada (a long piece of white silk Tibetans routinely present to honored guests) at the portrait of the Buddha while it was still ascending. But most, especially those who had been standing farther away, took this opportunity to shuffle forward and attempt to lay theirs at the foot of the portrait in person.
As devotees struggled forward and backward, up and down the slope, I became hopelessly caught in a vortex of humanity. Unable to resist the tide of people coming their way, one tourist couple wore frightened looks and their daughter wept slightly over her father's shoulder, apparently too scared to look up.
It took about a quarter of an hour before the turmoil ended. On the way back, I saw numerous little mounds of smoldering ashes-from the burning of grass-and people standing on both sides of the road with armfuls of unsold hada.
Before taking the final turn in the road that would block the mountain from view, I stopped to give the Buddha one last look, and to say goodbye.
I saw people wearing exhausted expressions still streaming down the hillside. Farther away were two giant rocks with colorful Tibetan characters on them that read "Drepung Monastery". And even farther away, in the far background, I saw the portrait of the Buddha, strewed with white bands. The fog had finally dispersed.
If you go
Lhasa, capital of the Tibet autonomous region, is a four-hour flight or 40 hours by train from Beijing. Originating in the 11th century, the Shoton Festival mainly consists of three parts: the "sunning of the Buddha", a Tibetan Opera show and a horsemanship and yak race show. It takes place every year around September (or early in the seventh month of the Tibetan lunar calendar) at Drepung Monastery, located at the foot of Mount Gephel in the western suburbs of Lhasa.
Shoton is a transliteration of two words in the Tibetan language that mean "the yogurt banquet".