Witnessing the Buddha's unveiling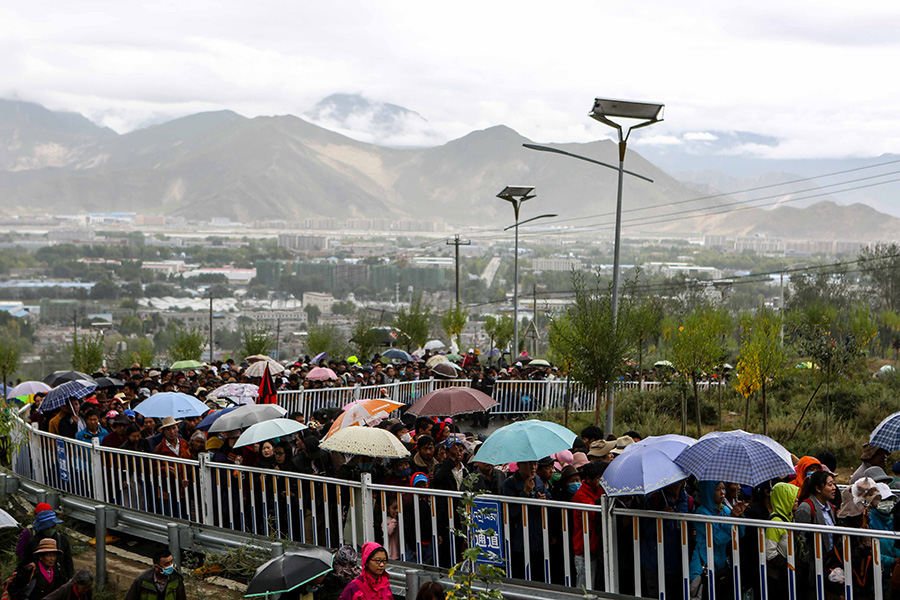 A large crowd of pilgrims and tourists flocks to the monastery in spite of the rainy weather. [Photo/VCG]
The procession begins
As night gave way to day, a row of figures emerged atop the hillside and a golden canopy was set up for one of them, who I presumed would preside over the ceremony. Yet while I was struggling to focus my sore eyes on what was happening above, there was a sudden flurry of activity below.
Two lines of lamas, carrying a giant roll of material on their shoulders, began marching slowly up the winding track from the monastery.
I was informed by someone standing nearby that the roll, once fully unfurled, would form a giant portrait of the Buddha.
Marching in front of the procession were standard-bearers carrying red and golden streamers, while from behind came another two lines of lamas, carrying another roll. From where I was stood, I could catch only a glimpse of them in between the backs of heads and they soon disappeared completely from view at a bend in the track. The next time I saw them, they'd arrived at the foot of the big slope.
At the sight of the procession, the crowd surrounding me became ecstatic, falling over themselves to reach out and touch the streamers, believing them to bring good luck. The lamas, struggling through the assembled masses, had a tough time keeping their towering hats upon their heads.
Punctuating the atmosphere was the solemn sound of a wind instrument, resonating back and forth along the hillside. Although the rain had stopped, the morning mist had yet to dissipate and it filled up every crevice of the landscape, mingling with the sound.
It would have been serene, if not for the bustle of the waiting crowd. As the anticipation built, all the yawning and fidgeting gave way to a number of last-ditch attempts by some to reposition themselves, in a bid to steal a better vantage point before the ceremony took place.