Handwritten letters from battlefields and deathbeds touch viewers nationwide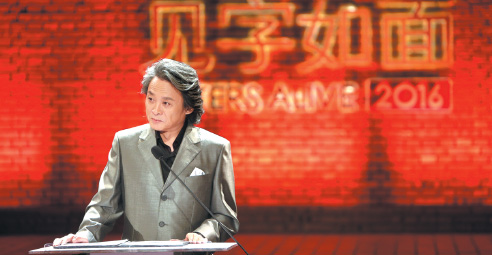 Xu Tao reads the farewell letter of Chen Jingying, a second officer of the Chinese Beiyang Fleet during the first Sino-Japanese War over 1894-95. [Photo provided to China Daily]
In 1647, three years after Manchu forces overtook the Ming court to rule China, the country was still in turbulence as advocates of the old regime battled the new. Xia Wanchun was one of them. The 16-year-old was captured but he refused to surrender, instead choosing to die for his cause.
The teenager's sacrifice has fade in modern history, but a recent TV program on Heilongjiang provincial satellite channel brought the 17th-century fighter back to spotlight.
Letters Alive, a 12-episode culture program to showcase the enduring charm of written correspondence, invited actor Lin Gengxin to read Xia's last letter to his family. To date, the program with 11 star performers reading 90 remarkable letters has been watched nearly 200 million times on the streaming site v.qq.com and miaopai.com. There's a studio audience as well.
Up to 14 percent of the letters read on screen were written toward the end of a writer's life. The majority are from Communist revolutionaries and military officers, with the rest penned by famous people who either committed suicide or suffered from major diseases.
Hailed as "serious" among mainly entertainment programs today, Letters Alive got high marks on Douban.com, a popular Chinese platform.
For producers, the overwhelming response to the program has not only been uplifting but has also highlighted a trend that they want to explore further.