Calligrapher burns midnight oil to copy ancient classics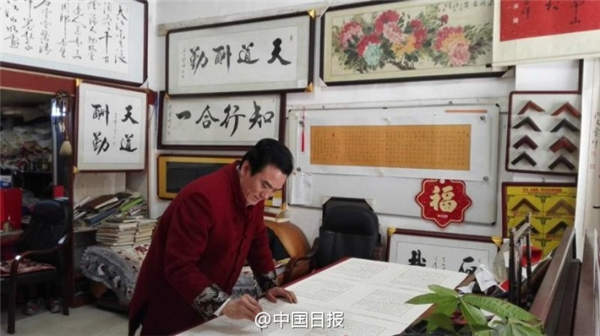 Zhou is engaged in the copying of Si Ku Quan Shu. [Photo/Official Weibo account of China Daily]
Zhou Baoxiang, 53, received a special task last September which was to copy Si Ku Quan Shu, an ancient encyclopedia compiled under the edict of Emperor Qianlong (1711-99) of Qing Dynasty (1644-1919).
Since that day, Zhou has spent endless nights accompanied only by a writing brush. Recently, the philosophy ("zi") part he was in charge, which includes 40,000 Chinese characters and written on more than 800 pieces of paper, has been completed. Soon, the Si Ku Quan Shu, which gathers over 200 people's handwritings, will be permanently displayed by the National Museum of China.
"I copy everyday and don't feel tired at all"
Zhou is the director of Calligraphy Reported newspaper's Zhuzhou branch in Zhuzhou, Hunan province, the deputy chairman of Zhuzhou Calligraphers' Association, and runs a calligraphy and painting academy. As he was busy with his post during the day, he worked on the special task during the nights. The Si Ku Quan Shu is written with complex characters, so before he began writing he had to thoroughly read the chapter, analyze the structure of each character and arrange the layout of each character on the paper.
The paper he used to copy is very precious, and is created after going more than 80 processes. If Zhou makes a mistake, he has to start all over again and a piece of paper is wasted. Zhou feels bad when paper is wasted, so he is very careful in writing.
The copying process is quite tedious and Zhou has to sit still for two to three hours before he gets a chance to stand up and take a rest. Sometimes he was so immersed into his work that when his employee came to work in the morning the next day, he was still writing.
Thus, from the end of summer, to golden autumn, chilly winter, and to early spring this year, he finished all the 40,000 characters in the philosophy ("zi") part of Si Ku Quan Shu, which was more than six months ahead of the schedule. "I'm very interested in this task, and don't feel tired at all," Zhou said.