He gives calligraphy space to fly freely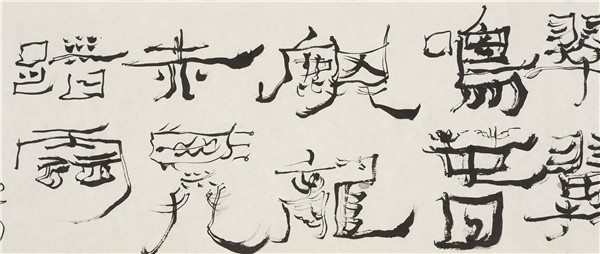 Phoenixes and Dragons, a calligraphic piece by Wei Ligang, is among the works at an ongoing exhibition in Beijing. [Photo provided to China Daily] 
The centerpiece of experimental calligrapher Wei Ligang's ongoing Beijing exhibition is a 45-meter-long scroll titled Phoenixes and Dragons that the Beijing-based artist completed in 2012.
In the work, Wei repeats classical poetry and original verses. He cycles through various writing styles, including the cursive script (caoshu) and clerical script (lishu). The brushstrokes transform in a symphonic way "abruptly from calmness to a manic touch", says Wei.
The piece is installed on the wall and in a spiral on the second floor of Ink Studio Beijing, where Wei's exhibition Songs of Phoenix Mirror is running.
The characters are like mythical birds in ancient Chinese tales, taking viewers on a journey through time to the origin of Chinese aesthetics.
The 53-year-old grew up in Datong, a city in North China's Shanxi province that boasts rich historical and cultural heritage.
Once a capital of the Northern Wei Dynasty (386-534), Datong is celebrated for its ancient Buddhist sites, including the Yungang grotto shrines and the Huayan Temple, and many precious steles bearing calligraphic inscriptions from centuries ago.
The environment implanted in him a deep admiration for the grandeur and power of classical art. Wei, who began practicing calligraphy as a child, is inspired by such masters as Fu Shan (1607-84), a famed calligrapher, thinker and doctor from Taiyuan, Shanxi's provincial capital.
Wei's calligraphic pieces show the influence of Fu's writing philosophy-seeking a state that is a bit out of control.