Preserving the past for posterity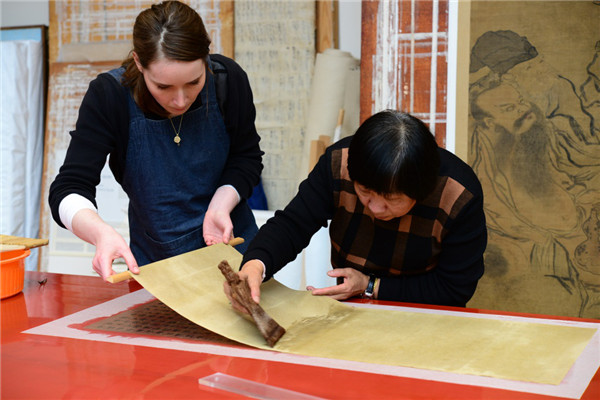 Qiu Jinxian (right) restores an ancient calligraphic piece with the help of a conservator at the British Museum. [Photo provided to China Daily]
Chinese paintings and calligraphy are treasures of humanity. But keeping them in good shape both at home and abroad is a big challenge, Wang Kaihao discovers at a recent forum in Beijing.
For the past 29 years, Qiu Jinxian, who works at the British Museum, has been handling top-tier artworks from China.
"My job is to handle precious cultural relics and rejuvenate the paintings, just like a doctor treats patients," the 64-year-old said earlier this month at an international forum on the authentication, restoration and protection of ancient Chinese calligraphy and paintings at Renmin University in Beijing.
"I always use traditional techniques in my work, whether it is for mounting, colors of pigments or selections of materials," she says.
The process is complicated, and many details are still rooted in tradition. For instance, the glue she uses is made of starch and seaweed. And the paper she uses to restore paintings is dyed using soybean milk.
Qiu arrived at the British Museum in 1987. Before that, Japanese methods were widely used to restore ancient Chinese paintings.
For example, The Admonitions Scroll housed in the British Museum, a work from AD 400 and the oldest surviving Chinese painting-a claim doubted by some scholars, who believe that it is a facsimile of the original-was mounted in wooden lattice in the 1910s rather than preserved as a scroll.
But when Qiu and her colleagues restored the piece in 2013, they decided not to mount it as a scroll due to its fragility.