Art of preserving precious Chinese treasures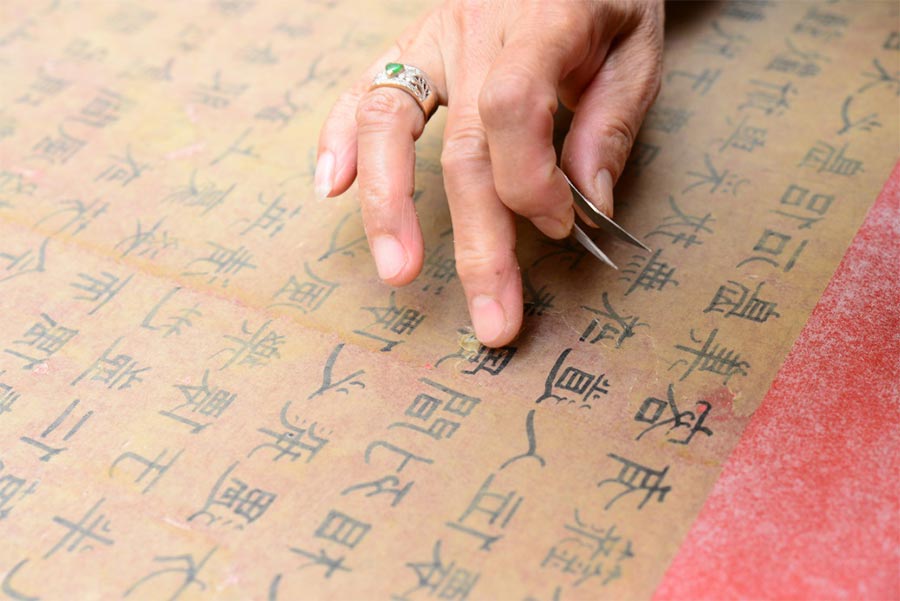 Qiu Jinxian works with a tweezer. [Photo provided to China Daily]
Numerous top-tier artworks from her home country, ranging from Dunhuang frescoes to paining masterpieces from thorough ancient Chinese history, have passed through Qiu Jinxian's hands in the past 29 years at the British Museum.
"I am supposed to carefully and meticulously treat precious cultural relics, and strive to possess the magic hands to rejuvenate the paintings, just like a doctor treating patients," the 64-year-old woman said earlier this month at an international forum on authentication, restoration, and protection of Chinese ancient calligraphy and paintings at Renmin University of China in Beijing.
"I've always referred to traditional techniques in my work, whether in mounting styles, colors of pigments and selections of materials."
The process is complicated, and many details are still rooted in old wisdom. For example, the glue she uses is still made of starch and seaweed. And, paper used to restore a painting will be dyed in soybean milk as a preparation.
No traditional Chinese mounting technique was known at the British Museum until the 1970s. Before Qiu arrived, Japanese methods were widely used to restore ancient Chinese paintings.