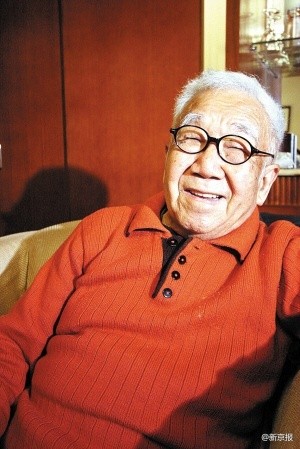 Zhung Nu [Photo/Weibo.com]
Zhuang Nu, a famed Chinese lyricist, died at the age of 95 on Tuesday morning in Southwest China's Chongqing Municipality.
Zhuang was born in Beijing. His best-known songs include "Tian Mi Mi" and "You Jian Chui Yan," which were popular among Chinese and overseas Chinese.
In 1949, Zhuang settled in Taiwan, where he worked as a journalist, editor, dramatic actor and lyricist.
He wrote lyrics for many songs by celebrated Taiwan singer Teresa Teng.
After his first wife died, Zhuang married his second wife Zou Lin, a native of Chongqing, in 1993. Zhuang frequently traveled between Taiwan and Chongqing. He also wrote some 60 songs related to Chongqing.
Zhuang once said he was born to be a lyricist, though he entered the career by chance.
Famous composer Gu Yue spoke highly of Zhuang and said his lyrics are not just lyrics but also dreams -- the dreams of Chinese people all over the world.
Zou Lin told Xinhua earlier that Zhuang was a humorous man with affection and faith.
A farewell ceremony will be held on Saturday in Shapingba District of Chongqing.