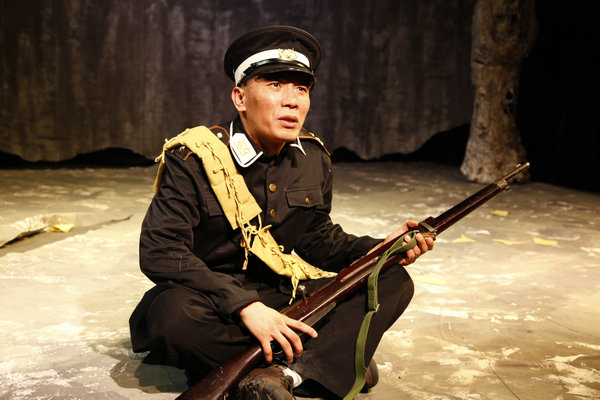 Fang Xu portrays different roles in his adaptions of Lao She's works.[Photo provided to China Daily]
A loyal fan of Lao She (1899-1966), one of China's most significant authors, Chinese director and actor Fang Xu is back with another stage production, Mr Ma and Son, based on the novel with the same title.
The play will debut at Capital Theater on Nov 16 and 17, and then travel to Shanghai for stagings on Dec 3 and 4. Fang has previously adapted three other Lao She works into plays.
Mr Ma and Son draws largely on Lao She's own experience when he taught Mandarin classes at the University of London from 1924 to 1929.
The novel gives a unique view of what life was like for Chinese people in 1920s London by telling the story of Mr Ma and his son Ma Wei, who run an antiques shop nestled in a quiet street by St Paul's Cathedral. Far from their native Beijing, they struggle to adapt into the Western society of the 1920s. The father and son also experience unexpected love affairs with their landlord Mrs Wedderburn and her daughter Mary.
Lao She, whose original name was Shu Qingchun, is known for his style grounded in the dialect and culture of old Beijing. His best-known works, such as Teahouse and Rickshaw Boy, have been adapted into movies, TV series and plays in China and have been read in translation around the world.
Mr Ma and Son was adapted as a TV drama in 1999, starring renowned Chinese actors Chen Daoming and Liang Guanhua.
It was published in English by Penguin Classics in 2013.
"Though it is about overseas Chinese in the 1920s, a century later it still appeals to contemporary readers and connects with people. There are lots of Chinese people living abroad, who share the same struggles. The relationship between father and son also resonates with the audiences," says Fang, who is the director, scriptwriter and plays the role of Mr Ma in the play.
The cast members are all male actors, including Liu Xinran, a Peking Opera actor known for nan dan (men playing women's roles), as Mrs Wedderburn.
"The play will have a surprising chemistry with the all-male cast. It will leave space for the audiences to imagine," Fang says.