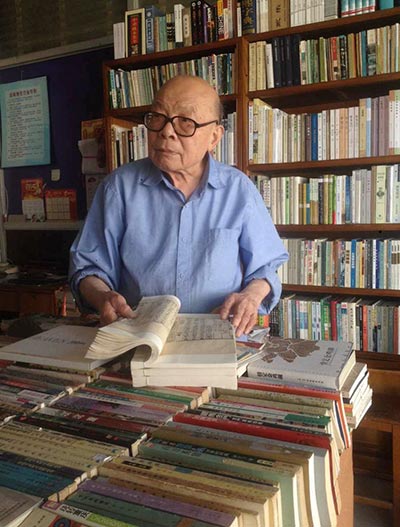 Jiang Chengbo at his bookstore in Suzhou, Jiangsu province. [Photo by Xu Lijuan/China Daily]
Jiang Chengbo is 90. He is running a 117-year-old antique bookstore inherited from his grandfather, and that has made him an internet celebrity.
Jiang, the third-generation owner of the store, said that after visitors began talking about it on the internet, book lovers from across the country have come to look for books and take photos with him.
Located in the Gusu district of Suzhou, in East China's Jiangsu province, the store covers about 20 square meters and is filled with shelves on three sides with books categorized as literature, history and philosophy.
Known as Wenxueshanfang, or "house of mountain of literature", the store was founded with a loan in 1899. After more than two decades of diligent management by Jiang's grandfather and father, the store paid back the debt and bought a large number of antique books, some of which were rare books, becoming one of the most famous antique bookstores in eastern China.
In 1931, when the store was relocated, Xu Shichang (1855-1939), president of the Republic of China between 1918 and 1922 and a patron, honored the store by inscribing the plaque for it.
Many renowned literary figures of the time were the store's frequent visitors.
"At the age of 16, I helped at the bookstore and saw Zhang Yuanji (president of the Commercial Press), (historian) Gu Jiegang and (writer and translator) Zheng Zhenduo visit it," Jiang recalled.
"My hospitable grandfather liked to invite them to a little restaurant. They, all learned scholars, exchanged ideas at the dinner table."
In 1956, the store was merged with State-owned Suzhou antique bookstore and its name was not used anymore. Jiang also became an employee of the bookstore where he was responsible for collecting antique books.