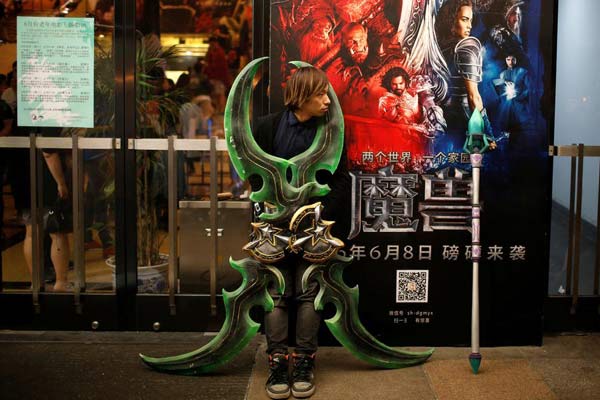 A fan stands in front of a poster during China's premiere of the film Warcraft at a theatre in Shanghai, China, June 7, 2016. [Photo/Agencies]
Following a strong recommendation from my dearest friend in China, I went to see the movie
Warcraft
at an AMC theatre last Saturday at 8:30 pm, only to find the theater about 30 percent full -- or 70 percent empty -- depending on how you want to look at it.
What gives? Shouldn't it have been more crowded on such a delightful weekend night for such an expensive Legendary production of Duncan Jones' adaptation of Blizzard Entertainment's real-time strategy game, which has been known to cause global mania?
The truth is, Warcraft, released in China on June 8, two days before the US release, had so far yielded more than $200 million in the world's most populous nation as compared to a modest $50 million domestically.
This isn't the first time that a Hollywood movie has earned bigger in China than in the US. There seems to be an unwritten rule these days in Hollywood that "you don't make a movie when you don't think it's going to work in China." That certainly holds true this time around for Warcraft.
China is currently pushing for an annual 30 percent increase in homemade films due to a rapidly growing middle class that cherishes the leisure lifestyle and Western culture.
According to one report, the entertainment industry in China has seen an explosive growth rate of 17 percent year to year from 2010-15, a much faster pace than the overall economy.
Average disposable income in China has grown from $760 per person in 2000 to $5,000 in 2015, producing strong market demand for entertainment products like movies, games and music.
Hollywood movies have suffered from shrinking support from domestic exhibitors, advertisers and social media, while China's box office in the past few years has grown into the largest offshore territory for most films, and is expected to overtake North America in 2017.
Will the strong market demand and reliable revenue in China help American studios survive the downturn in the US movie industry and return to its peak?
Maybe, if they play the game strategically with a win-win mindset, like Legendary did.