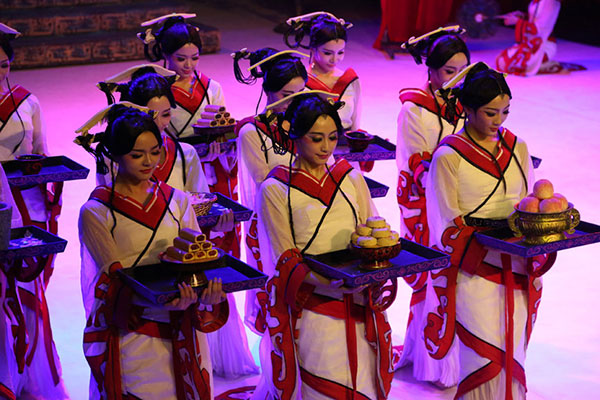 The file photo shows actresses performing in the drama Confucious. [Photo/cri.cn]
Kong Dexin, Director and Choreographer at the China National Opera and Dance Drama Theater, says the classic dance drama "Confucious," which she directed and choreographed, is a proud memorial to her ancestor.
The Chinese drama director has been recognized as a descendant of Confucious (551 - 479 BC), a renowned thinker and educator in ancient China.
"I'm proud of my family, and I think the drama is an opportunity for me to do something for my family," says Kong.
Kong has been dedicated to the creation and choreography of the classic Chinese drama ever since she became a student at the Beijing Dance Academy in early 2002.
"Confucious" premiered in China in 2013.
Kong then took the show on a tour around the country and abroad.
In 2015, Kong took her play to Europe. She says it was well received by audiences in countries like Serbia, Greece, Marcedonia and Bulgaria.
"I remember the day of the performance. From the beginning to the end, the theatre was very quiet. We were a little bit nervous. We were thinking 'Why was it so quiet and why didn't the audience show any reaction? Did they dislike it? Or maybe the idea of the show didn't get across?' Then, however, suddenly a wave of applause erupted when the performers bowed down to the audience. We realized unlike their Chinese counterparts, the local audience there understood the drama in a different way. We were really moved," says Kong as she recalls when the play was performed in the Serbian capital Belgrade.
Kong says that to her, dance and drama are universal languages that transcend national boundaries.