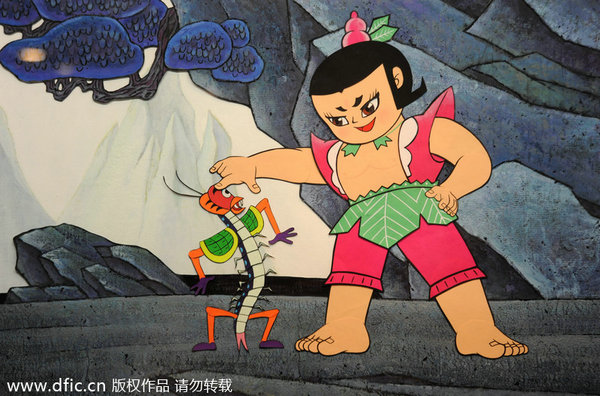 Calabash Brothers. [Photo/IC]
Can you still remember those songs you sang when you were a child? The lyrics are always very simple to remember and the tune vivid and joyful. We learned those songs from our parents, teachers in kindergarten or from records and tapes that also have become a distant memory. As today is World Children's Song Day, you may want to listen to the following songs we chose for you. Let the melody of nostalgia flow through your ears and mind.
Calabash Brothers
Calabash Brothers was one of the most popular animated TV series (1989 -1991). Its eponymous theme song also left a strong impression on people who were born in the 1980s. With a strong beat, the tune conveys the powerfulness of the seven calabash brothers.
Click here to listen to Calabash Brothers
Snail and Orioles
I learned this song when I was in primary school in 1996. This happy song vividly depicts a conversation between two orioles and a snail. The song was composed by Chen Hongwen and Lin Jianchang and distributed in 1977.
Click here to listen to Snail and Orioles
Two Tigers
This is one of the most well-known songs among Chinese children who were born in the 1980s. But the tune originates from 17th century France, not China. The lyrics also vary in different countries. In China the song illustrates two fast running tigers, but one has no ear and the other no tail.
Click here to listen to Two Tigers
Little Girl Who Collects Mushrooms
Composed by Gu Jianfeng in 1982, the song conveys love and passion for industrious work. The lyrics intend to help children understand the happiness one finds in work.
Click here to listen to Little Girl Who Collects Mushrooms
Let Us Boat Together
It is the theme song of the 1955 film, Flowers of Our Motherland, the first children's film made after the founding of the People's Republic of China in 1949. The lyrics written by Qiao Yu illustrate a group of children happily boating on the lake in Beijing's Beihai Park. Liu Zhi, the composer, also wrote theme songs for classic Chinese films, such as Shang Gan Ling.
Click here to listen to Let Us Boat Together
Little Swallow
The song's composition was inspired by construction work in Huangshi in Hubei province in 1955 and was distributed in 1957 as an interlude in the film, Diary of a Nurse. The cuteness of a little girl's voice and the image of a small swallow convey the beauty of spring and the happiness derived from the construction achievements.
Click here to listen to Little Swallow