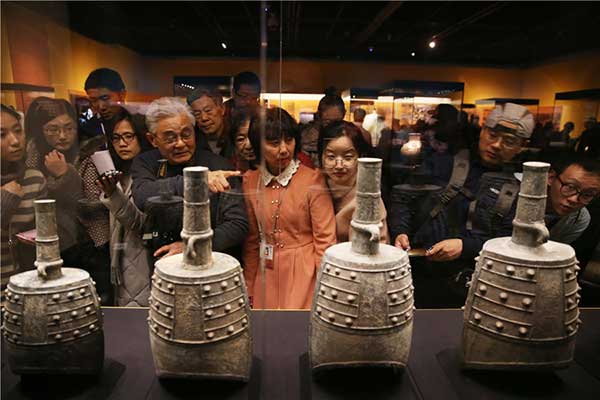 A set of ancient chime bells is displayed at the Capital Museum in Beijing on Wednesday.[Photo by Jiang Dong/China Daily]
The identity of the occupant of a prominent ancient royal tomb has been confirmed, archaeologists said in Beijing on Wednesday.
The tomb in Nanchang, the capital of Jiangxi province, which dates to the Western Han Dynasty (206 BC-AD 24), is that of Liu He, the first of four generations to hold the title Marquis Haihun, researchers said.
He was also a dethroned emperor whose reign lasted just 27 days.
Unearthed relics had helped greatly with the identification, said Xin Lixiang, head of an expert panel from the State Administration of Cultural Heritage.
Xin said three items had been particularly important.
"A personal jade seal with Liu's full name found inside the inner coffin alongside his remains was the crucial identifier," Xin said. "The discovery of a letter by Liu to the emperor written on a bamboo slip and his name written in ink on gold ingots also reaffirmed the identification."
The identification result was announced at the opening ceremony of an exhibition at the Capital Museum in Beijing, which features more than 400 recently unearthed Marquis Haihun cultural relics.
Xin said the jade seal is not among the items on display, as it is being cleaned. "We also found several extremely delicate lacquer containers alongside Liu He's remains that held jadeware," Xin added.
About 10,000 cultural relics, including lacquerware, bronze and jade artifacts, have been unearthed at the 40,000-square-meter grave site since the archaeological project began in 2011. More than 280 gold ingots and discs as well as 2 million copper coins have been excavated.