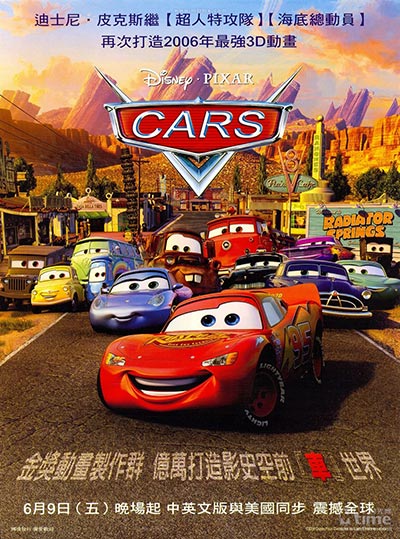 Poster for Cars. [Photo/Mtime]
The Autobots tells the story of a young genius named Kaka, who has designed the world's most advanced auto control system, making it possible for people and automobiles to communicate directly.
Zhuo said that the essence of the movie is to encourage the younger generation to use their brains, be curious about science and inventions, and to create a brighter future for China. "Our movie is quite inspiring," he said.
Zhuo has received many crank calls since the movie made its debut.
"Recently I have received quite a lot strange phone calls and messages, I feel that somebody wants to bring me down," Zhuo said.
He also said that the box office has been greatly crippled by the backlashes. "Because of the smear, we had fallen short on the box office," Zhuo said. He said that the movie has made only 4.3 million yuan ($692,300) at the box office, much lower than what he had expected.
The Autobots is produced by Xiamen Lanhuoyan (Blue Fire) Film and Animation Co. Ltd. and released by Beijing G-POINT Film Culture Media Co. Ltd.
Related:
China copyright society says film, TV theft frequent
Movie 'Monster Hunt' premieres in Beijing