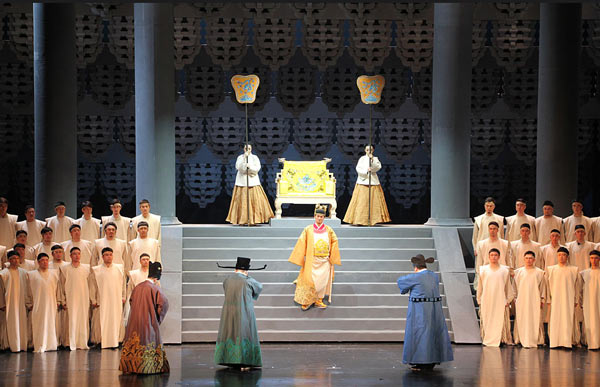 New opera features renowned Ming Dynasty emperor. [Photo/CNTV]
Never mind that he usurped the throne, Ming-Dynasty Emperor Yongle did wonders for maritime exploration and literature in 15th-century China. Now, an opera recalling his illustrious feats comes to Beijing with a star-studded cast and crews.
Based on historic events, Yongle tells the story of its title character who overthrew his nephew to gain the Chinese throne. Yongle then set about consolidating his reign with two great feats: one was sending famed explorer, Zheng He, on voyages to western seas; the other compiling books into a great encyclopedia, called the Yongle Canon.
For the latter task, the emperor appointed the scholar Xie Jin, here played by leading tenor Han Peng, who says the role presented him with unusual challenges.
"This is a story of the Ming Dynasty, and my role is that of a great writer who often writes poems. So my lines are in the ancient Chinese language, which is seldom used in our daily life. Sometimes, I have to look up in the dictionary how to pronounce a particular word. It's quite a challenge," Han said.
Recent years have seen a boom in Chinese opera. Han believes opera's center of gravity is gradually moving eastward, while a growing number of Chinese performers are earning recognition in the West. But it is not the singers, he says, who face the greatest pressure.
"I think it is the composer who faces the greatest challenge. Western opera has centuries of history and has been recognized by generations. But Chinese opera's revival is more recent. Quality should be more important than quantity," Han said.
The composer for Yongle was Ye Xiaogang, who has bestowed every main character with a unique melody while borrowing from Chinese folk songs. The conductor is Tan Lihua, music director of the Beijing Symphony Orchestra.
"Ye Xiaogang is known for his pleasant melody, and this opera has rich elements of Chinese traditional music. The audience can clearly hear instruments like the pipa or sanxian. But it's composed in the form of an opera, to be musical and dramatic. As with all good operas, there are some haunting melodies in this piece," Tan said.
After debuting in Tianjin last week, Yongle's tale of court intrigue is on stage in Beijing Wednesday and Thursday night.