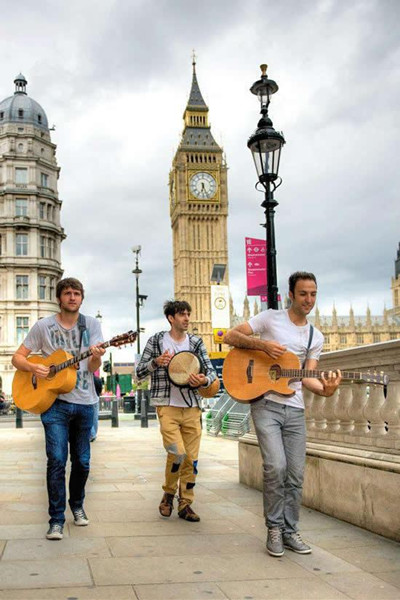 Transition performanced in the street in London.[File Photo]
Transition, a British rock band, this month launched their music carnival tour in 21 cities across the Chinese mainland.
The three-people band, known as Qianjin Band in Chinese, have already rocked stages in Wuhan and Chongqing with cities such as Shenzhen, Wenzhou, Dalian, Handan and Hohhot next in their line-up.
This is their second tour on the Chinese mainland, having performed in ten cities last year.
One reason why they're increasingly popular is because while they are British, they sing songs in Chinese.
Set up in 1997, the band went to China's Taiwan in 2005 to develop their music career. "Before we went to Taiwan, we hardly had any knowledge about the place. We only remembered having toys in childhood labeled 'Made in Taiwan,'" said Josh Edbrooke, one of the band members.
While the band received good feedback for their English songs in Taiwan, feedback was even better when they tried to sing in Chinese. So they began to translate their English songs into Chinese with friends' help.
After years of practice, they have their own Chinese songs. Their debut first Chinese album released in December 2013 won the band fans and fame both on the Chinese mainland and in Britain.
"Playing Chinese music created by ourselves make audiences feel we are learning their culture, rather than bringing western culture to them," said Josh, adding: "That's a fusion of eastern and western music, and mutual-respect."
In 2014, Transition was nominated for the "Best Foreign Mandarin Band" at the Taiwan Golden Indie Awards. "It was great honor to be nominated for the award, as we are the first-ever band from the UK to be nominated for a mandarin music award," said Josh, with his brother Jesse Edbrooke sitting next to him with a smile crossing his face.
Jesse is the lead singer of the band. He said he found it was very difficult at the beginning to understand and integrate into Chinese society and culture without knowing the language. They spent more than 10 years in Taiwan learning Chinese, the culture and the music. Gradually, they succeeded, and fell in love with the culture.